Patrick Kolafa
The Drumheller Mail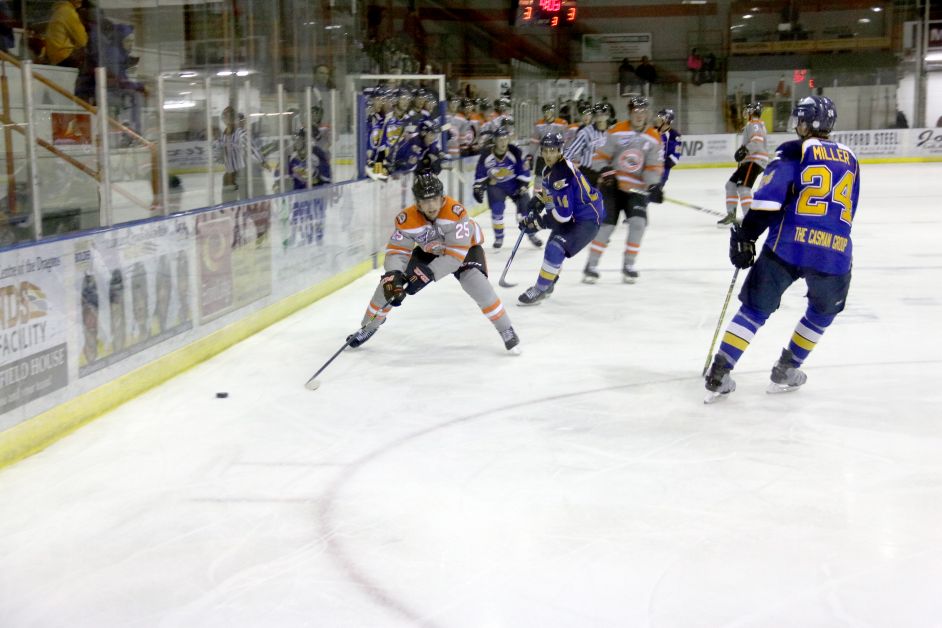 The Drumheller Dragons had a strong weekend homestand, pushing the north division's number one team to overtime, and then delivering a striking blow to Grande Prairie.
The Dragons hosted the McMurray Oil Barons on Saturday night, October 15 in front of 593 fans. The Oil Barons are leading the north division and opened the scoring midway through the first period.
Just 4:19 into the second period Joren Patenaude had a breakaway on the power play and tied the game at one. Just 13 seconds later, Brady Risk scored putting the Dragons up 2-1. It was short lived as the Oil Barons tied it to end the period.
Four minutes into the third period, the Oil Barons went ahead 3-2, but the Dragons rallied and Blake Kleiner tied the game with 10 minutes to go. The Dragons held on to force overtime.
A poorly timed holding penalty two minutes into the 3 on 3 period, put the dragons on the defensive and the Oil Barons scored the winner.
"It was a complete game, for 60 minutes, the kids battled," said coach Brian Curran. "For about three of four minutes after they tied the game, they put on a lot of pressure, our goalie played really well."
The Oil Barons goalie also stood on his head to keep Fort McMurray in the game with two and half minutes left.
"It was a spectacular save, a TSN highlight for sure," laughs Curran.
"In all, it was 57 minutes of playing hard against a very good hockey club,"
The Dragons were back on the ice the next day, this time hosting the Grande Prairie Storm. Rather than being fatigued going into the second game in as many days the Dragons had the jump going up 2-0 in the first period with goals from Bradley Stonnell and Slater Dykema. Evan Rochowiak scored early in the second period before the Storm made it onto the board. Stonnell scored his second and Evan Tschumi put the Dragons up 5-1 to end the period and Patenaude scored in the late minutes of the third to end the game 6-1.
The team is improving immensely from where we were on day one," said Curran. "The thing is I am looking at the growth of this team. We are the youngest by age in the league, and when it is all said and done, that youth is starting to mature. There is going to be trials and tribulations by this team, but we are hoping that by Christmas time this team believes it can be a force. I don't want to wait until Christmas time, but when you look at where we started, until the last two games, we are learning lessons very quickly."
This weekend the Dragons head north to play Grande Prairie, Drayton Valley and then Whitecourt. They are back on home ice on October 28 to play the Camrose Kodiaks.