The Drumheller Dragons racked up another win on Wednesday evening, their second in a row.
In a back and forth game, the Dragons defeated the Calgary Canucks 7-5 in front of the home crowd.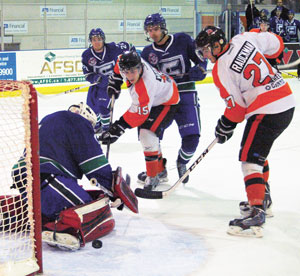 The Dragons earned another two points with a 7-5 win at home over the Calgary Canucks. The Dragons dominated the first period, but the Canucks bounced back to keep the game within one goal. The Dragons are on the road this weekend, heading to Fort McMurray and Bonnyville.
The Dragons dominated the first period. Trent Oullette scored the first goal of the night just 5:40 into the game, giving the Dragons the upper hand. From there, the Dragons kept up the pressure on the Canucks' defence and goalie Adin Hill.
The biggest moment in the game occurred two minutes after Oullette's goal. Canuck Brayden Beckley managed to strip the puck from the Dragons defence deep in the Dragons zone and charged at Curtis Skip, who started in goal for the Dragons. Beckley crushed Skip, leaving the Dragons net minder prone on the ice for over two minutes.
While Skip was down, Beckley was assessed a 5 minute penalty for goaltender interference, and a game misconduct. Beckley was ejected from the game.
Skip eventually rose, but appeared in considerable pain. He sat on the bench for awhile and returned to the ice few minutes later.
The Dragons had a two man advantage, owing to Beckley's major and a previous Canuck penalty, for over a minute and then over four minutes of one man advantage, but they couldn't get the puck past Hill.
Oullette scored his second goal of the night with just under a minute left in the first, giving the Dragons a 2-0 lead heading into the second period.
When the teams returned to the ice, the Canucks stepped up their game and over the course of the period scored three goals. The Dragons added two more in the second and kept a 4-3 lead.
Skip did not return to goal after the intermission and Steven Glass took the net.
Trent Oullette earned a hat trick 9:03 into the third to give the Dragons a two goal lead. However, the Canucks did not relent and by the final minute of the game the Dragons were holding on to a tenuous 6-5 lead.
The Canucks pulled Hill out of goal for the extra man. The Dragons defence remained strong and Oullette even managed to get an empty net goal for his fourth of the night.
The Dragons are on the road this weekend, heading to Fort McMurray on Saturday and then Bonnyville the following afternoon. The Dragons next home game is in Hanna on October 26.