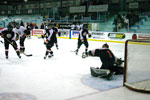 Drumheller didn't go down without a fight against Oyen on Friday night, November 7, managing to find the back of the net twice before the clock ran down.
Final score was 5-2 for the visiting team.
The Sports Room Midget 'A' Raptors spent most of the night on the offensive, but however it seemed it was hard for them to find an opening other than firing from the top of the slot hoping the puck would find its way in.
"The boys played hard, tough and fast," manager Wes Burke told The Mail.
This game was only their third in the season, and Burke said "they are really starting to come together as a team, despite only being our third game."
By the end of the second period, the score was a hefty three point lead for Oyen, as they scored with minutes left in the period.
Tempers flared as the second fight of the game broke out, causing a brawl within the Memorial Arena.
While two players tangle, a poorly timed hit by a Drumheller player sparked two more fights between the teams.
Two players were ejected from Friday night's game.
"We never like to see that, but they had a really good physical game tonight. They stood up for each other," manager Burke said.
With two minutes left, Drumheller was desperate to score creating many chances. A few with the puck only inches from the line before being snatched by Oyen.
Even given a power play opportunity with a minute left on the board, Drumheller did not manage to equalize the score.
The season is still early, giving the Raptors more than enough time to secure a spot in the top.