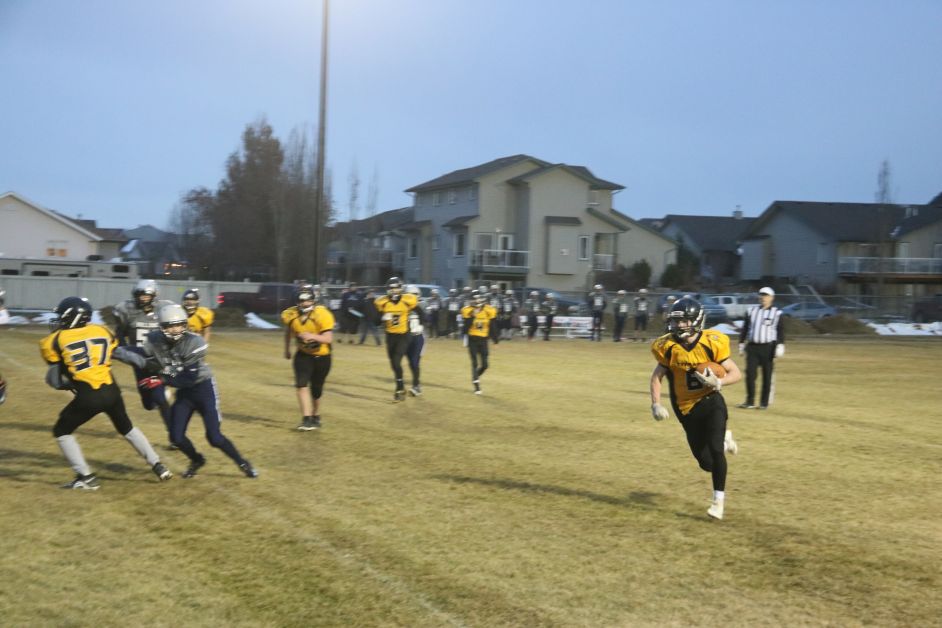 The Bantam Titans left it all on the field on Saturday afternoon, November 4, as they battled for the league championship with the Olds Bulldogs.
It was a battle in the making all season. Both teams were undefeated through the regular season and playoffs and were destined to meet on the DVSS Field.
The teams were both supported well by fans and were in a duel. The Titans did hold a 14-12 lead in the second quarter, but by halftime, they were down 29-14. Olds extended that lead in the third quarter to 44-14, but the Titans never relented and scored two touchdowns by the early fourth quarter, making the score 44-28. Olds quickly came back and went up 53-28, but the Titans marched the ball down the field to score again, making it 53-34. That was as close as they could get as the Olds put it in once more to end the game with a score of 58-34.
"I am very proud of how they finished, they never gave up and stuck with it," said Coach Brad Iverson. "We thought maybe we would have a chance, but it was very hard to stop that quarterback they have. We knew they were good and would put up some points, but it is still a very successful year."
In fact, it was an incredible season for the program. The Bantam Titans marched through the regular season handing teams lop-sided defeats. Unfortunately, they didn't get the chance to size up some of the top competitors like Olds until the very end. He is proud of the effort of the players.
"I have coached some of those players in the first year that I came to Drumheller. So I coached them for four years. And quite a few of them for three years. I have been very proud to watch their growth from Peewee right on up, and their football careers are just starting, they are going to be forces in this program."
The future looks bright for the team. Iverson says he has a lot of players moving up to the next level, but will still have about a dozen players that will fill key roles in the upcoming season, as well as players moving up from Peewee.