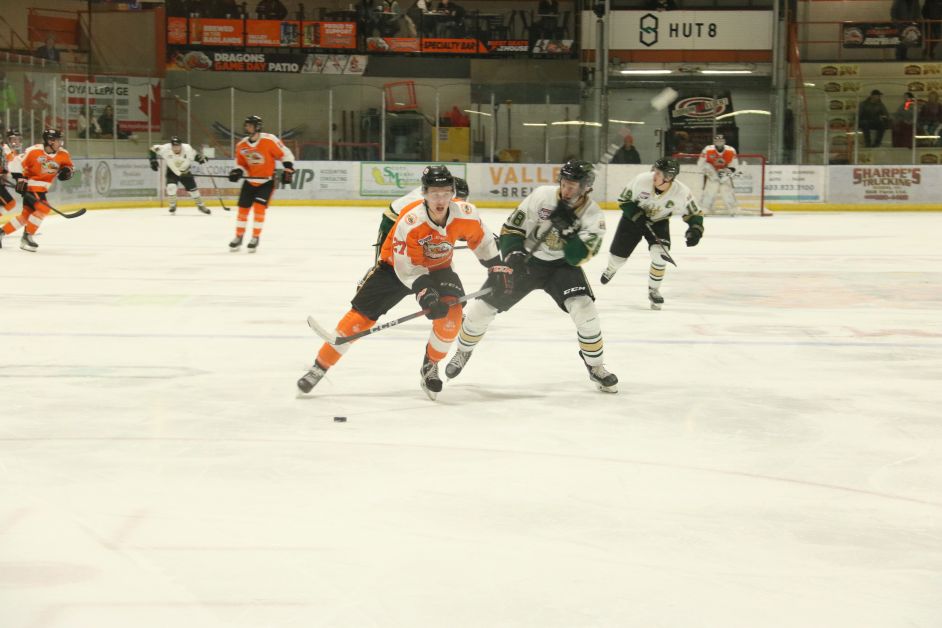 The Dragons picked up four of a possible six points last week as they split their time between home and away.
It was the biggest crowd so far this season on Tuesday, October 24, when area students crowded into the Drumheller Memorial Arena for Hockey Hooky Day. 1,210 fans watched the Dragons take on the Olds Grizzlys.
The Dragons started out strong and Jacob Goudreau opened the scoring at the midway point of the first period. This was followed up by Connor Poffenroth seven minutes later on the powerplay. Olds added one at the end of the first period, as the Dragons led 2-1 after one.
Kai Matthew scored on the powerplay in the second and Easton Adrian did the same in the third period as the Dragons carried a 4-1 win.
Whatever energy the Dragons had on Tuesday afternoon had disappeared by Thursday night, October 26 as the Dragons hosted the Okotoks Oilers. The Dragons were outshot 21-2 in the first period alone and by then were already trailing by four goals. Coy Pighin added one early in the second, but Okotoks added three more to make it 7-1 after two periods. Adam Raesler scored his 11th of the season early in the third period, but that was as much offence as the Dragons could come up with, falling 7-2.
On Friday, October 27, the Dragons regrouped on a road trip to take on the Sherwood Park Crusaders. Sherwood Park scored first, but Aiden LaRose followed it up to tie the game. The Crusaders connected against lead 2-1 after one. Raesler got hot in the second period scoring two and taking the lead 3-2. The third period saw a performance from Goudreau as he scored two. Jordan Luk added one with 49 seconds left, as the Dragons went on to a 6-2 win.
The Dragons are not back on the ice until this Friday, November 3, when they take on the Spruce Grove Saints. On Saturday they host the Crusaders.