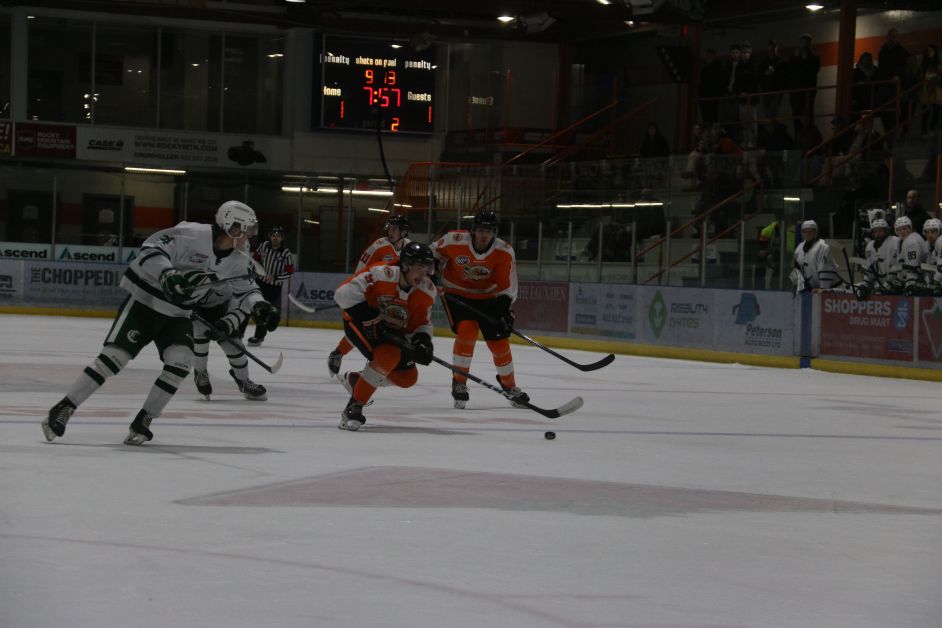 The Dragons have clinched a playoff spot and picked up three of a possible four points over the weekend, taking on the Sherwood Park Crusaders and the Drayton Valley Thunder.
On Friday night, February 3, the Dragons faced off in the Drumheller Memorial Arena against the Crusaders. The Dragons lead after the first period on a goal from Vann Yuhas, but the Crusaders came back in the second to tie it up. Will Christian scored with 2:19 left in the second to take a 2-1 lead.
Sherwood Park tied it up in the third, but Jacob Goudreau put the dragons back on top midway through the period. With 2:06 left, the Crusaders tied up to force overtime. Sherwood Park scored at 4:24 of the extra time to win.
The Dragons regrouped Saturday, January 4, when they faced the Drayton Valley Thunder. Ty Whitford opened the scoring, but the Thunder tied it up less than two minutes later. Caleb Willms put the Dragons up 2-1 after one period.
Goudreau opened the scoring, but the Thunder came back with two goals to end the second period tied at 3.
The third period was all Dragons as Coy Pihgin got the go-ahead goal, and Willms completed a hattrick with an unassisted goal at the midway point, and an empty-netter with 29 seconds to go. The Dragons win 6-3.
The Dragons are heading down the homestretch of the season, and have only four more home games to go. On Tuesday, February 7, they were in Camrose to take on the Kodiaks and return there on Saturday, February 11.