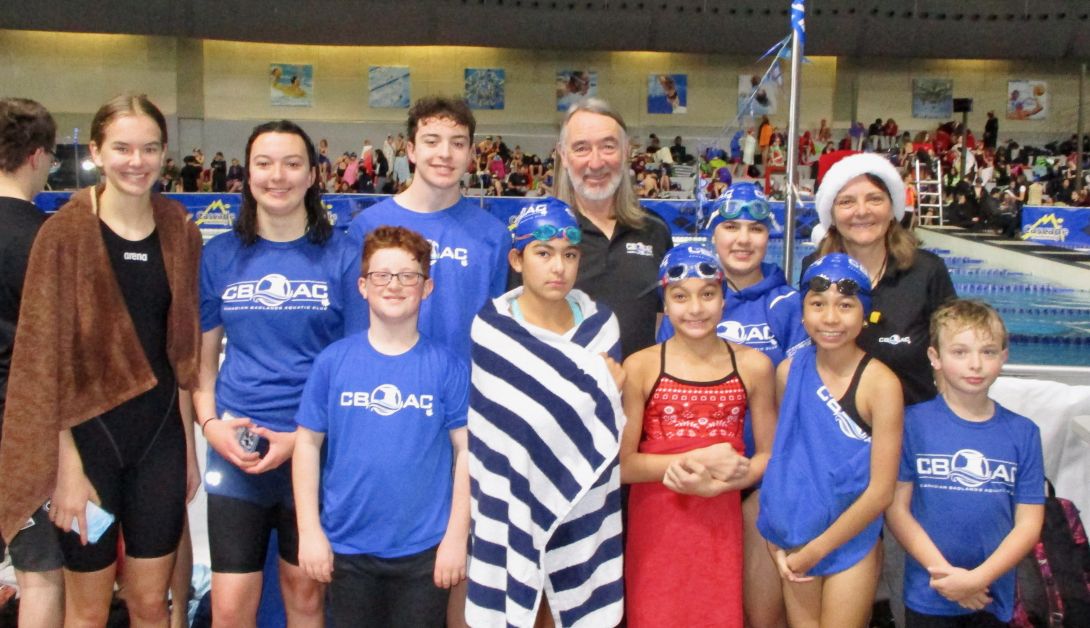 Nine members of Drumheller's local swim club, CBAC, made a splash at the Cascade Sandy Ferris Age Group Challenger, December 9 - 11.
Grady McGougan, 16, competed in seven events and the finales in all events. The highlight for Grady, and the club, was a gold medal he received in the 50 m Breaststroke.
"As a coach, seeing your swimmers get new best times is very fulfilling. Seeing them make finals is a thrill. And seeing them win gold is just plain mind-blowing. We experienced it all at this meet. The whole town should be proud of our team. I sure am," said Grady's coach, Morgan Syversten.
Grady also competed in 50m Freestyle, 100m Freestyle, 50m Backstroke, 100m Backstroke, 50m Butterfly, and 200m Individual Medley (IM).
Both Cooper O'Dwyer, 10, and Hayden Peever, 12, competed in 100m Freestyle, 100m Backstroke, and 50m Breaststroke.
Andi Calon, 15, and Marlee McGougan, 13, swam 7 events - 50m Freestyle, 100m Freestyle, 50m Backstroke, 100m Backstroke, 50m Breaststroke, 50m Butterfly, and the 200m IM. Andi finalled in 50m Breaststroke.
Rowan Geissberger, 11, Lalina Ram, 12, Suvera Ram, 10, and Xyza Yap, 11, competed in 4 events - 100m Freestyle, 50m Breaststroke, 100m Backstroke, and 100m Butterfly.
Suvera finaled in the 50m Breaststroke events and finished in 16th place.
"I love to see the look of accomplishment and confidence on my swimmers' faces after they swim an event. Some of them swam the 50m Butterfly for the first time at this meet. I like to challenge them to get out of their comfort zones and try new events," commented head coach, Brenda Davies.
CBAC will next be competing in the Puglsey's Plunge meet in Calgary on January 21, 22.