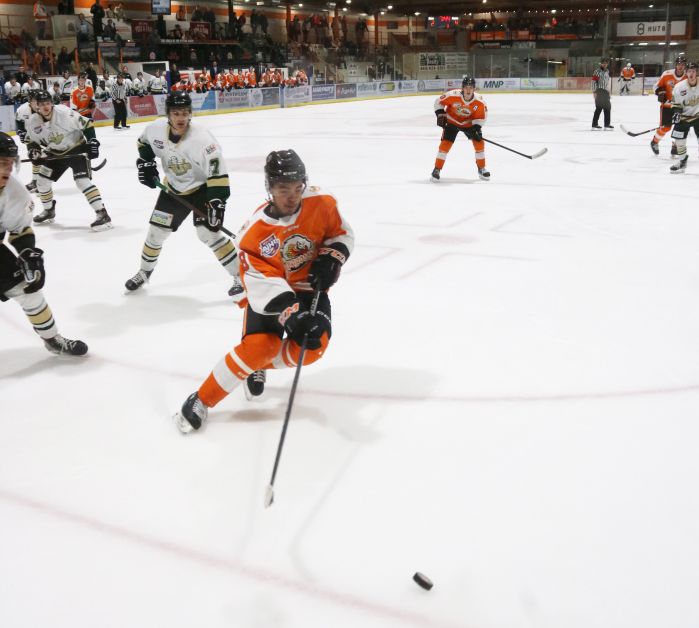 The Drumheller Dagons split over the weekend, falling to the Okotoks Oilers, but bouncing back to route the Camrose Kodiaks.
On Friday, November 4, the Dragons hosted Okotoks, which has the third-best record in the league.
Ty Daneault came out and quickly scored for the Dragons just six minutes into the game unassisted, but the Oilers tied it up 50 seconds later. Okotoks added one more to go up 2-1 after one period.
Okotoks extend the lead to 3-1, two and half minutes into the second period, but Vann Yuhas scored three minutes later, and the period ended 3-2, Okotoks. The Oilers kept the Dragons on their heels through the third period, adding two goals as the Oilers went away with a 5-2 win.
On Saturday, November 5, the Dragons boarded a bus heading to Camrose to take on the Kodiaks. Daneault came out firing and scored two straight goals. Camrose answered back with one to end the first period 2-1 Dragons.
In the second, Coy Pighin scored his second as a Dragon, and 33 seconds later, Spencer Claerhout scored his first. At the midpoint, Daneault finished up a hattrick as the Dragons led 5-1 after two. The Kodiaks answered back midway through the third, but Dylan Glinski and Sam Simard each hit the net to put it out of reach. Dragons win 7-2.
The Dragons are packing their bags to head out on a road trip. The Dragons will be in Fort McMurray on Friday, November 11 to take on the Oil Barons, and then in Bonnyville on Saturday, November 12, to take on the Pontiacs. On Sunday, November 13, they are in Lloydminster to take on the Bobcats in a matinee.