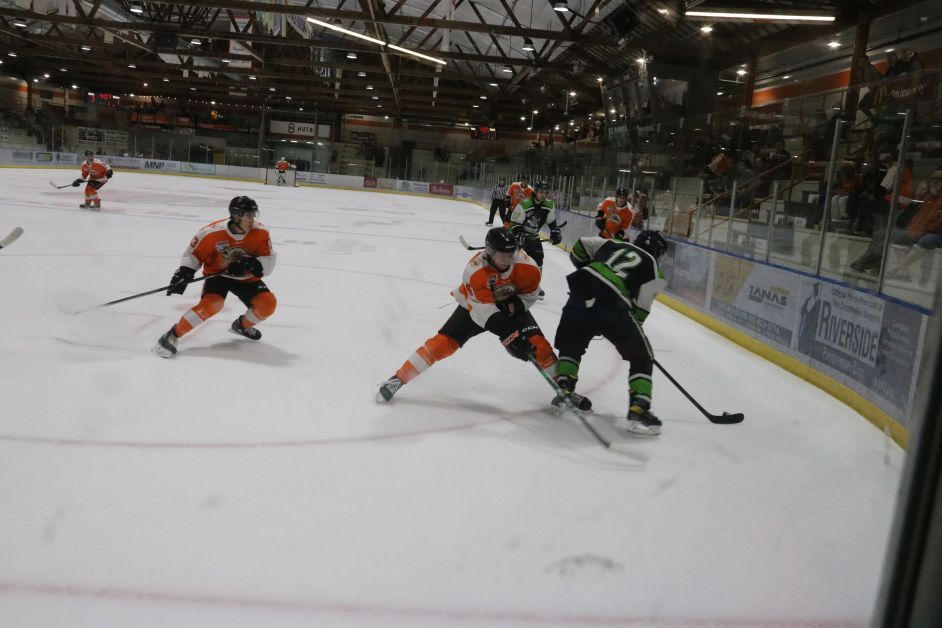 The Dragons were in Blackfalds this weekend and had the opportunity to face off against talent from the AJHL Northern Division.
The Dragons were in Blackfalds for the AJHL Showcase weekend and took on the Bonnyville Pontiacs on Thursday, September 29.
The Pontiacs have been playing great hockey so far this season. and are in third place in the Viterra North Division. They wasted no time getting on the scoreboard and led by one after the first period. They increased their lead just a minute and a half into the second period, before Ty Whitford put the Dragons on the scoreboard, making it 2-1 going into the third period.
Bonnyville increased the lead again midway through the third, but Noah Danielson added a goal for the Dragons with over three minutes remaining.
Bonnyville put it out of reach with one more goal making it a 4-2 final. Goaltending played a role as the Dragons outshot the Pontiacs 36-22.
On Saturday, October 1, the Dragons faced the Fort McMurray Oil Barons for the first time this season. After a scoreless first period, Fort McMurray went ahead by two goals in the second. They added one more at the 13:16 mark of the third period, but Adam Raesler connected on the powerplay with 45 seconds left. It was too little too late as the Oil Barons went on to a 3-1 win. Again the Dragons led the way in opportunity, outshooting the Oil Barons 49-38.
The Dragons were at home on Tuesday, October 4 to take on the Blackfalds Bulldogs, results not available at press time, and are on the road this coming weekend to play Canmore on Friday, October 7 and Calgary on Saturday, October 8.