Another generation from a local hockey family is turning heads on the ice as Renna Trembecky succeeded in securing an invitation to the training camp for the Seattle Thunderbirds in the WHL.
The Tremebecky name in the valley carries some considerable hockey pedigree. Bob Trembecky was a scorer playing senior amateur hockey in Spokane. He spent four years with the Jets and three with the Flyers and finished in the top 10 in scoring in the Western International Hockey League, and was named playoff MVP with the Flyers in their Allen Cup year.
Rick Trembecky played minor hockey in Drumheller and was a rink rat. He went on as a defenseman for the Edmonton Oil Kings and the Calgary Centennials in the Western Junior Hockey League. He also spent time with the Clinton Comets in the Eastern Hockey League.
Rick tells the Mail he doesn't think there is a "Hockey gene," but says, "when you are brought up in a small town and the rink is there, you don't just play with kids your own age, you play with guys who are 20 or 50 or 80. It doesn't matter as long as somebody is out there, and you learn a few things every time you play."
His son Jeff also had a considerable career, playing junior hockey in Alberta and BC before attending the University of Alaska Fairbanks. He played on various teams in the East Coast Hockey League for six seasons, before spending three seasons in the British National League and three seasons with the Tilburg Trappers in the Netherlands.
The next generation is on the up-and-coming. Jeff has a son, Teydon, who is playing in the WHL and his 14-year-old daughter is turning heads between the posts, just returning from the Seattle Thunderbirds camp. Renna is the first female to suit up in the team's history. She was facing NHL-level talent on the ice and played in the Rookie Game.
"It has been awesome to play against all these NHL draft picks," she said on a podcast on the Seatle Kraken Audio Network. "It is really interesting to be able to be here and be in this facility. It is really awesome."
Last season she played 24 games for the Saints Pro Hockey Academy U15 team in Strathcona.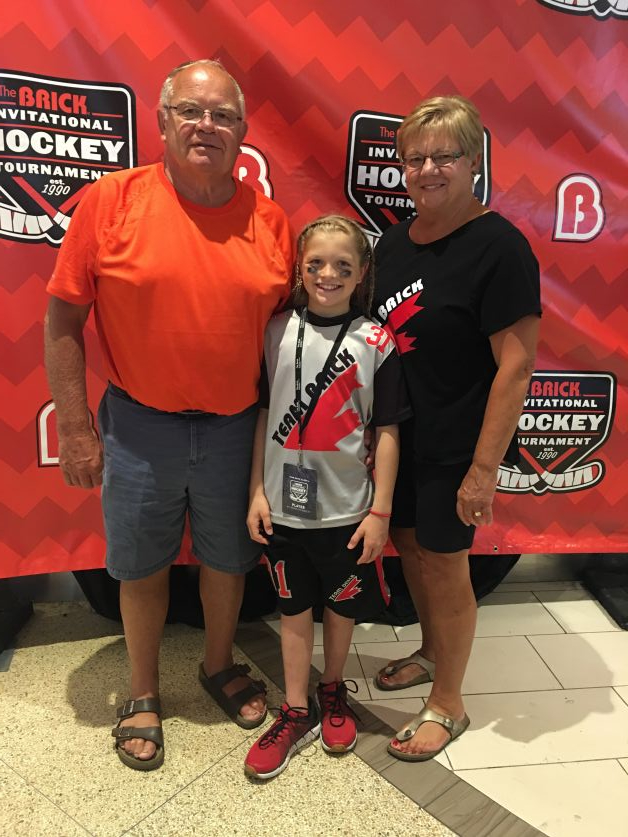 "I have pretty much been playing my whole life coming from a hockey family. I have been in the rink since I was two," she said. "When I was seven years old I committed to be a goalie and just stuck with it."
She said the invite was unexpected. Thunderbird GM Bill LaForge was happy to extend the invitation.
"I was fortunate to watch her a lot last year and saw her be the best player in the championship of her league," said LaForge in the same interview. "She earned a spot with her play and we were happy to bring her in.
Renna's grandmother Gayle is impressed with her smarts and work ethic. She is a hard worker and studious.
"When you apply yourself as she does, you see it is worth it," said Gayle. "She drives herself, and we have hardly ever seen her have a bad game, she figures it out."
"You don't want to play cards with her, she will beat you," laughs Gayle.
Her goal is to earn a scholarship and play in Divison I NCAA in the US. She would also love to play for Team Canada, and possibly represent at the Olympics.