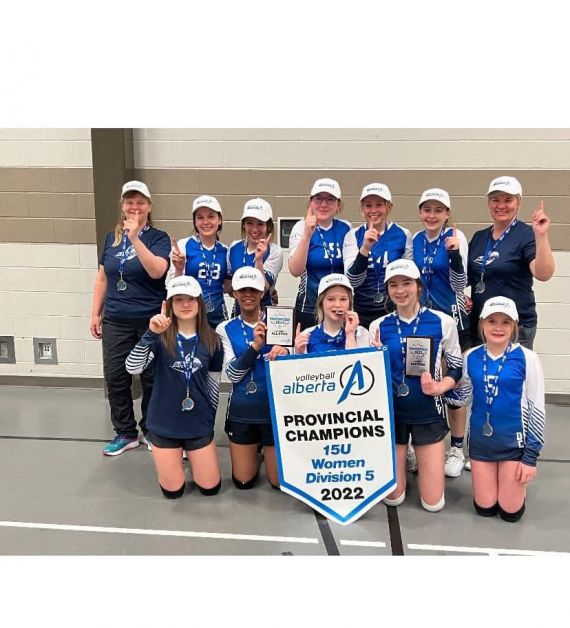 The Drumheller U15 Drumheller Volleyball Club Smash struck gold at provincials and has its sights set on Nationals.
The Smash, coached by Audrey DeBona and Koren McDougald, competed at provincials in Calgary on Saturday, May 8 and 9. They came home with gold medals.
"I knew the girls could win and I believe they knew they could too," said DeBona "They improved 100 per cent since Day 1 last December. Despite COVID and injuries, we did it."
"When they won they were so pumped."
The team played 14 games in two days, four matches on Day 1 and then three on Day 2. The team lost one match in round-robin and placed second in their pool. They topped the Brooks Rush in the semifinal and then played Fort Saskatchewan Sonics in the final.
"We were down by seven points in both games and just kept going, it was awesome. I was so happy for the girl, they were on fire this weekend," said DeBona.
The Smash won in two straight games.
What made the win more impressive is they are a young team.
"It is a U15 team, but I have six that are U14. I took them at the beginning of the year so we could have enough for two teams," said DeBona. She adds the team has regional representation with players from Carbon and Three Hills.
It was also the first complete season for the team as the previous two were cut short due to COVID-19.
She adds the team has had great support off the court.
"We have the best parents, they have been excellent all year," said DeBona
The team practices two to three times a week at Greentree School. DeBona said the team has done a lot of bonding since they began in December on and off the court, including e-biking, ice cream dates, and even yoga.
"They have come together and everyone has their job on the team to contribute, and that's what helped us win provincials
The Smash is now preparing for nationals.
The 2022 Youth Nationals are from May 18-21 at the Edmonton Expo Centre.