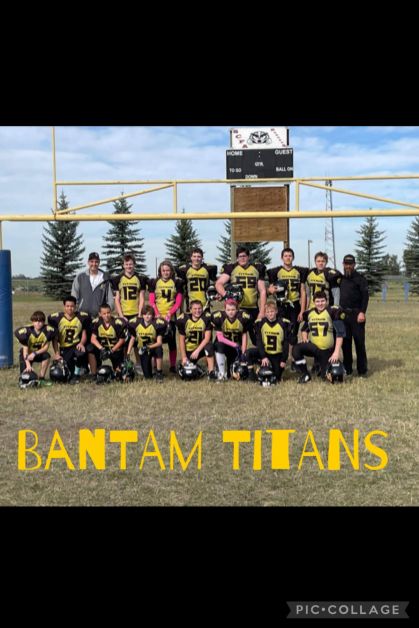 The Bantam Titans redeemed themselves after last weekend's loss in a close game and defeated Strathmore on the road.
The Bantam Titans were in Strathmore on Saturday, September 25 to take on the Badgers. The team has had some challenges early but is coming together. This was evident in their 40-16 win.
"The Bantams have been a little bit of a work in progress because we had some low numbers, but over the last week or two we have had some more guys come out," said Coach Brad Iverson. "Last week we were much closer, we lost 39-35 (to Strathmore) in a game we could have maybe won, we had a couple of turnovers late. This week we did really well."
"With the new players that have joined the team, it has really helped everyone sort of begin to develop and start to come together."
This showed with their more disciplined style on the field.
"We really eliminated some of our mistakes, we had fewer turnovers and the penalties were down a lot," said Iverson, adding they had more offensive spark with some of the new additions to the team.
This season the Bantams are playing nine a side, and for a while, they only had about a dozen players. The ranks have since grown to 18, which reflects the product on the field, and also helps to have more effective practices.
The team played in the Central Alberta Football League, and the bantams have been split into two divisions. With only three teams in the south division, the Titans have completed their league schedule. They do not play this weekend but will play in an exhibition series with Hanna.