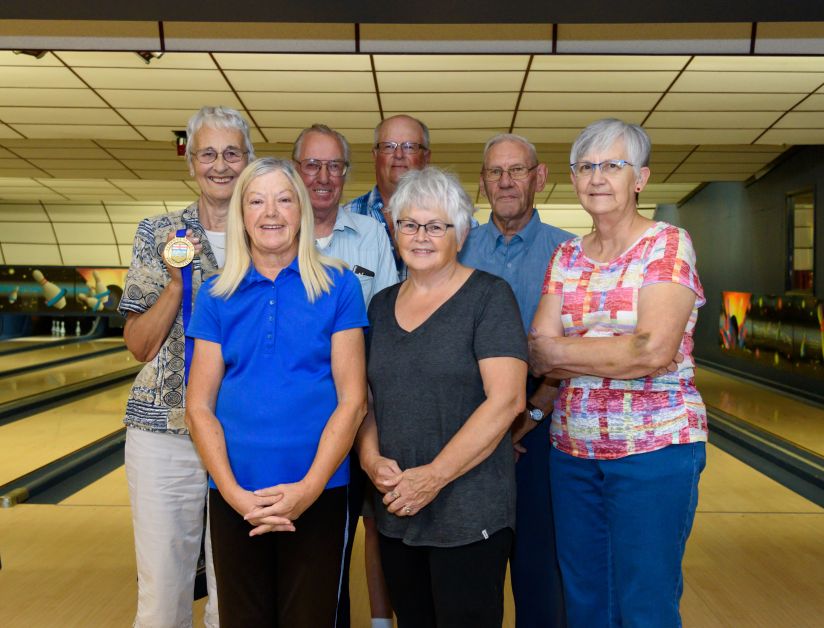 Drumheller participants enjoyed a fun and competitive weekend at the 55 Plus 2017 Provincial Championships in Calgary on August 10, 11, and 12.

The event took place over 11 venues with a banquet to start things off.

As for the results of each sport, the golf competition was held at Fox Hollow Golf Course.

"It was a fun experience and everyone I golfed with had a friendly spirit of competition," said golf participant Ron Bell.

For cycling, Jim Milman competed in two races; 10 km and 40 km, both of which were hot days. Despite the increased heat, he was able to bring home a bronze medal in the 10 km recreational race.

Phil Wade was a teammate of the gold winning team for slow-pitch after they beat Lethbridge on Saturday morning. He was also a competitor at the 2015 Strathmore summer games where he set a record in Javelin.

Linda Traquair holds up her bowling gold medal after the Alberta 55 plus Summer Games in Calgary from August 10 to 12.
Mailphotos by Terri Huxley
The Big Country Seniors Sports Society, the zone in which Drumheller is a part of, had 18 bowlers in the summer games with half coming from the valley.
Mike Barker, Barbara Barker, Daryl Saboe, and Linda Traquair won gold medals. Remie Defoor won a silver in the men's 65 scratch division, missing a gold medal by only six pins. Two out of the three teams were able to come home with some type of hardware. As of now, all gold medalists qualify for the Canadian Seniors Games which will be held in August of next year in New Brunswick.