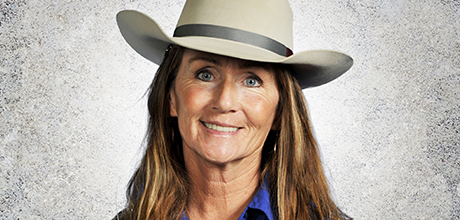 Three-peat Canadian Finals Rodeo (CFR) qualifier Kristy White lit up Calgary Stampede last week with four top placing scores in the women's barrel racing competition.

After attending the first four days in the 'A' pool, White walked away with $15,000 in day money from the Calgary Stampede this past weekend.

She was elated to represent the small village of Big Valley on the world stage, placing third on her first day with 17.42 seconds.

"It's been like a dream week really," said White. "We had a really good run, I ended up placing in every round."

On her second day of the four-day competition bracket, she placed fourth only to climb into the number three position the next day with 17.54 seconds. On her final day, White placed top dog with a time of17.33 seconds.
"Those are pretty good competitive times on a standard like that and kudos to Calgary because they kept the ground amazing so it was a very good barrel race."
She credits her Canadian born and bred horse Racy for performing so well at the Greatest Outdoor Show on Earth.

"I raised her and I trained her so it's nice to show that we are competitive on the world stage like that," said White. "She's a life changer. She has so much heart – she's all heart."

Due to high qualifications and stiff competition, not many Canadians are represented at the world famous rodeo anymore.

"They don't allow a lot of Canadians in there because their qualifications are pretty stiff to get into so it's just such a grand feeling to be able to showcase Canada," said White. "Those girls that are there are all at the top, they are the top barrel racers in the world."

White moved to Big Valley 15 years ago from B.C. and has loved every second of it. "I love living here, it's just amazing," said White.

White has plans to attend the CFR in Edmonton in November.

"I got some really nice young horses too so I hope to give Racy a bit of a break and start riding those younger ones," said White.

As a horse trainer, her main focus has always been horses so during the winter months, White will travel to Arizona to continue riding and training throughout the year.

"I pretty much ride everyday."