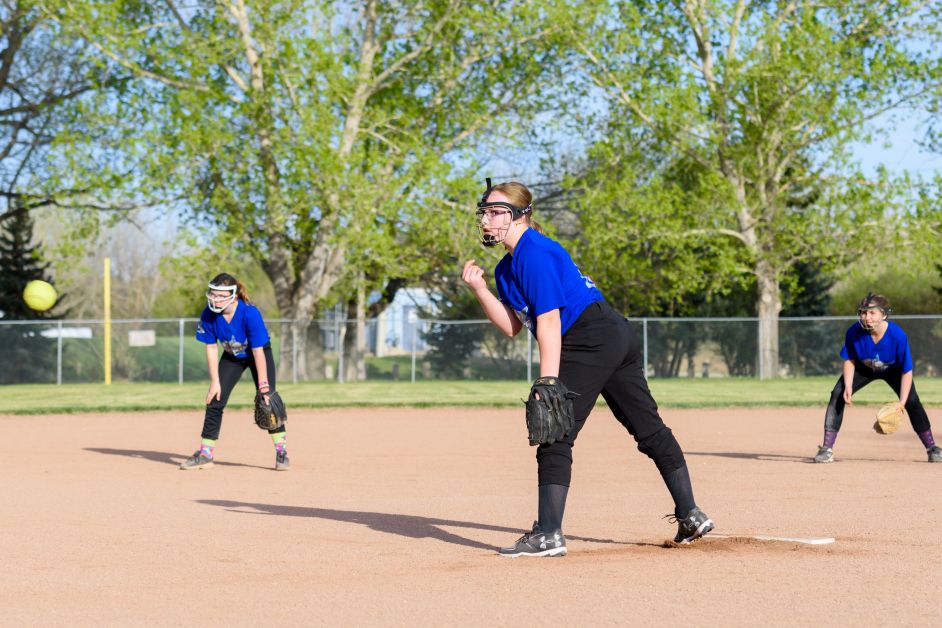 Pictured above: Alicia Christensen pitching for the U14 Vipers girls softball team playing against the Trochu White Sox on home turf at the Newcastle Ball Diamonds. (mailphoto by Terri Huxley)
Hey batter batter! The Drumheller girls softball team's season began last Monday with the season beginning on May 1, as the U14 Pure Venom team played Delburne on home turf in Newcastle.
The league consists of girls ages six to 18 in teams classified as U8, U10, U12, U14, & U16.
President of the Drumheller Girls Softball Association (DGSA) Board, Kent Jensen spoke with the Mail about how the teams are shaping up this year.
"It's fun – they're all a bunch of great kids," said Jensen.
This year, the league has two U8 teams, a U10 team, two U12 teams, two U14 teams, and a U16 team. A U18 team could not be made this year as there was not enough interest so with the U16 girls, they hope to come up and take on the new level of play in the following years to come.
"A lot of the girls from the U16 team next year will go up to that so then maybe we can get enough to set another team up, we can start all over again with that one," said Jensen.
Jensen contributes the steady incline in interest over the past few years to the popularity in the Toronto Blue Jays as well as players recruiting friends at school or other gatherings.
"It's just starting to take off again and I think with everybody not travelling everywhere, kind of sticking around home with the way that things have been – it's not an expensive sport," said Jensen.
For the U8's, registration with everything included is only $50.
As president, Jensen is in charge of team and umpire schedules, times, location and registration.
"I need to make sure that everybody else that's on that diamond is practicing somewhere else that day so that they can actually play their games without any interruption," said Jensen.
"It's been an eye opener but no it's been good," said Jensen.
Jensen looks forward to seeing the older teams engage and set goals to reach provincials.
"The more teams we can get in there would be ideal," said Jensen.
Drumheller itself is in the central Alberta league which includes Hanna, Trochu, Elnora, Delburne, Sylvan Lake, Lacombe, Red Deer.
"It's fairly widespread," said Jensen.
The Drumheller U16 girls may have competition this year but is debatable depending on which group they get put into.
"Last year it was Elnora and they took provincials so then they had to go up a level," said Jensen.
Although the board has no plans for an at-home tournament this season, they are gunning to host provincials next year. Each zone brings roughly two to three teams which could lead to more money coming into the town.
"We were maybe going to start planning and host provincials next year instead of a tournament – we thought we would do the big one and try to host provincials for next year," said Jensen.
You can catch all the action at the Newcastle Diamonds or little league diamond near the Badlands Community Facility (BCF) on Monday's and Wednesday's.
The updated schedule on the website can be found here.