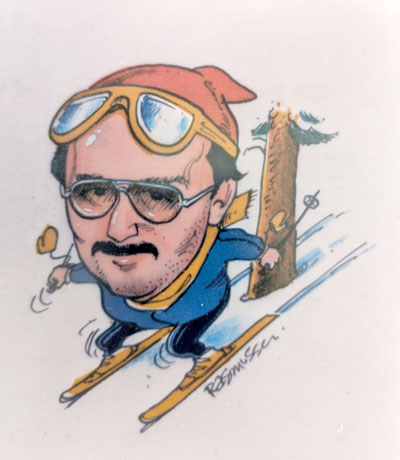 MALTIN
Ron
July 29, 1947 - May 25, 2023
Ron was born in Drumheller Hospital and spent his childhood roaming the hills of Rosedale. The family moved to New Westminster in the 50's, then to Edmonton in 1960 where Ron attended High School. He was an avid tennis player, skateboarder (long before it was a "thing") and skier (doing trips to Whitefish Montana long before it was a destination ski area).
Ron returned to Drumheller in 1970 where he helped the family get Apollo Lanes off the ground. In the early seventies he travelled to Europe with an extended stay in Morocco to assist a local family on their "farm". Upon return to Canada he managed the bowling alley in Stettler before heading to the East Coast and living in Nova Scotia. Ron again returned to Drumheller in 1977 to assist the family in running Apollo Lanes until they sold the business and Ron headed back to Edmonton.
Ron moved back to Drum in the early 90's to stay. Ron worked for Freson Bros and both the Drumheller Valley Times and the Drumheller Mail as a photographer and reporter before working as the Manager of the Wal-Mart Photo Shop, and finally running Top Down Tours showing tourists the sights in the Drumheller Valley and area.
One of Ron's many passions was the theatre, both acting in, and directing plays. In the late 70's he was heavily involved in the formation of a Drama School which ran in the summers at DCHS. His depiction of Scrooge in "A Christmas Carol" was one of many memorable roles and he took a lead in developing Dinner Theatre in Drum. One of the plays in which he acted and directed had a run at Rosebud and in Calgary. Ron was also an extremely avid motorcyclist who collected and rode numerous vintage British bikes over the years.
In his later years, health problems limited his physical activities, but he continued to pursue his passions driving to the States for cigar shows and hanging out in Washington and Oregon wine country. Ron's life was generally at full throttle and a fitting epigram can be found in the immortal words of Hunter S. Thompson: "Life should not be a journey to the grave with the intention of arriving safely in a pretty and well preserved body, but rather to skid in broadside in a cloud of smoke, thoroughly used up, totally worn out, and loudly proclaiming "Wow! What a Ride!"
Ride on Ron.
Ron is survived by his brother Gary (Vivian), his nephew Henry (Kayla), his grand niece Kali, and a number of cousins.