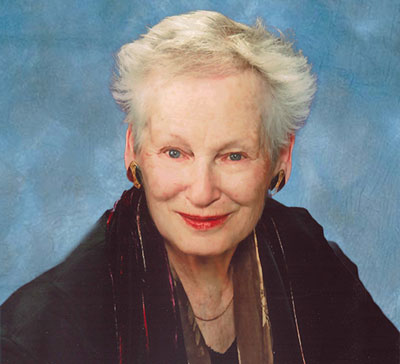 HANSEN
Ella Marianna
October 2, 1927 - August 21, 2023
Our gentle, sweet, most precious Ella has slipped away. But not without leaving the everlasting gift of her selfless, immeasurable, powerful love. There will never be any place, nor anything, nor anywhere we look that we will not find indelible evidence of her effortless beauty and elegance, her fierce and witty intelligence, innate kindness, enormous generosity, boundless curiosity and inborn talent as an artist: her imaginative vision inspired by her observation, insight and awareness of the intangible.
Ella (nee Bellak) was very much October's child, born on the 2nd of that month in Nagybátony, Hungary in 1927. Her parents moved to Canada two years later, arriving first in Calgary, then settling in Drumheller where Ella, the eldest of three daughters, attended Midlandvale School prior to High School. Fun-loving, adventurous and naturally athletic, Ella spent her young life roaming prehistoric hills with her many friends, drawn to nature and the outdoors, engaging in sports along with her burgeoning interests in the arts, sciences, humanities and fashion. Like all her great generation, Ella's experiences growing up during the Great Depression of the 1930's and the terrifying uncertainty of World War II left her with a profound sense of sacrifice, duty, resilience, determination, gratitude.
After high school Ella enrolled in the faculty of education at the University of Alberta. Barely 20 years old, her first teaching assignment was at a one-room school in Youngstown where she had the challenge of teaching grades 1 through 12, with several students only a few years younger and much taller than she was. She lived in a teacherage surrounded by limitless prairie; the only other known occupant sharing that solitude - a badger burrowed under the floorboards.
Four years later, in a cafe near Dalum, Ella unknowingly caught a first glimpse of the future. The second one came when he asked her for a dance. A tall, handsome Viking architect from Denmark, Ross (Rasmus) Hansen, took her in his arms and never let her go. Theirs was a lifetime romance, a union of shared sensibilities, hilarity and intellect, a joy of each other. Career opportunities took them to Calgary; Ross built their own home in Bowness in time for the arrival of their first of two daughters. Ella took three years off to raise her children before resuming her 3rd and 4th grade teaching career, the majority of which was at Belvedere-Parkway Elementary. She was one of very few women who worked out of the home at that time. There was no maternity leave. There was no daycare. Only her.
By 1983 Ella retired to be with Ross, also retired. They continued living their love for each other and their family until Ross died in 1995, leaving Ella a widow for the past 28 years; her love for him undiminished. Her eldest daughter Valerie contracted scleroderma, pre-deceasing Ella in 2017. She somehow endured the unendurable, keeping her pain to herself while remaining the very embodiment of love that she was, is, and always will be.
There is so much we admire, adore, and celebrate. Ella never stopped learning or wanting to learn. Analytical, philosophical, poetic, she also possessed a great sense of irony and a wonderful droll, often black humour. Ella could laugh at herself, and often did. Her patience was infinite. She was clever, politically astute, and always up for spirited debate. She could see both sides of any situation, always gave people benefit of the doubt, and provided much enthusiasm and encouragement to others. Ella had a unique bond with, and understanding of children. She also knew and understood that children's happiness and self-worth are paramount. And she made sure that it was.
Ella made life an art. She beautified her surroundings, found pleasure in every nuance, every colour, every object; in all of nature. She celebrated the people and events in her life, never failing to communicate her appreciation through personal cards and notes of thanks.
We have yet to fathom the terrible weight and depth of our loss of our beloved, cherished Mum, Grandmother, Great-grandmother, Sister, Aunt, and Friend. No longer will we hear Ella's cheerful 'bye for now, dear' nor see her lovely blue blue eyes light up with happiness. How sad to see Italian plums have arrived and she's not waiting for them. The Friday paper, who will dissect the world with us now? Who will choose lobelia next June, contemplate new books or wonder at each full moon?
Ella is survived by her daughter Anita (Fred), her grandson Cameron (Jenna) and her two great-grandchildren Alina and Lana, her sister Anne Campbell, nieces and nephews in Alberta and Denmark.
We are beyond grateful for the outstanding compassion and care given to Ella by the gifted and extraordinary people at Chinook Hospice, each and every one who remain in our hearts forever. Truly, thank you. And thank you to the staff of the cardiac ward at Foothills Hospital.
As per her wishes, Ella chose to be cremated and have her ashes dispersed where she has designated. A private celebration of Ella's life will be held at a future date. In living memory of Ella Hansen, a tree will be planted in the Ann & Sandy Cross Conservation Area by McInnis & Holloway Funeral Homes, Heritage.
McInnis & Holloway 403-243-8200