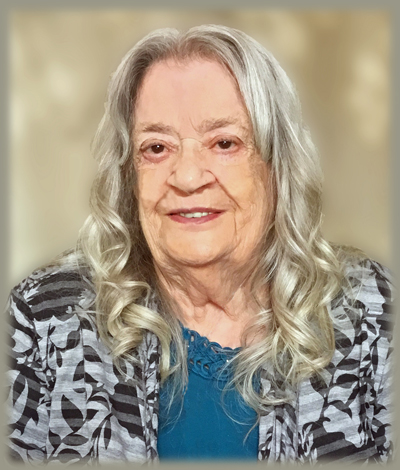 MARUZS
Dorothy Suzanne
July 11, 2021
It is with great sadness that the family of Dorothy Suzanne Maruzs announces her passing on July 11, 2021 at the age of 83 years. Dorothy will always be remembered for her generosity, kind-heartedness, stamina, and loyalty to family and friends.
Dorothy married Vince Maruzs on May 18, 1957. Vince passed away in 2003, giving them 46 years together before she was widowed. Dorothy will be lovingly
remembered by her three daughters: Sandra (Rob) Schneider of Drumheller, AB; Karen (Simon) Wells of Kamloops, BC; and Kim (Rick) Stuckless of Rosedale, AB. She will also be remembered by her many grandchildren, great-grandchildren, and extended family. Dorothy is predeceased by her parents, Goldsby and Jessie
McCracken; husband, Vincent Maruzs Sr.; son, Vincent Maruzs Jr.; grandson, Andrew Stuckless, and brother, Don Langley.
Dorothy was born in Calgary AB, yet lived most of her life on a farm in Carbon, AB; first with her parents, and then with her husband Vince, as they took over the family farm. She attended the Gamble and Carbon schools. After Dorothy graduated, she worked in the Armed Forces in the clerical department for a time, before she married.
Dorothy thoroughly enjoyed bingo, as well as playing crib. Additionally, she had a passion for music, often playing her accordion for hours at a time. She also found pleasure by leisurely reading a variety of books and magazines, or doing Word Search puzzles. Dorothy's gift for embroidery was evidenced by the beautiful tablecloths and pillowcases that she crafted. Dorothy enjoyed travelling when she had the chance and visited the country of Hungary, numerous provinces in Canada, along with a number of places in the USA.
Dorothy's most important job was being a wife to Vince and a mother to her four children. Outside of homemaking, she occasionally worked various jobs which included hospitality at the Carbon Hotel, running a small egg business from the farm, as well as selling ice cream in a mobile ice cream truck.
Although Dorothy will be sorrowfully missed on this earth, we can rest in the knowledge that she is eternally with the Lord in Heaven.
Donations are appreciated in memory of Dorothy to the Three Hills Long-Term Care Hospital.
To express condolences and share memories with the family, please visit: www.mountainviewmemorial.ca.