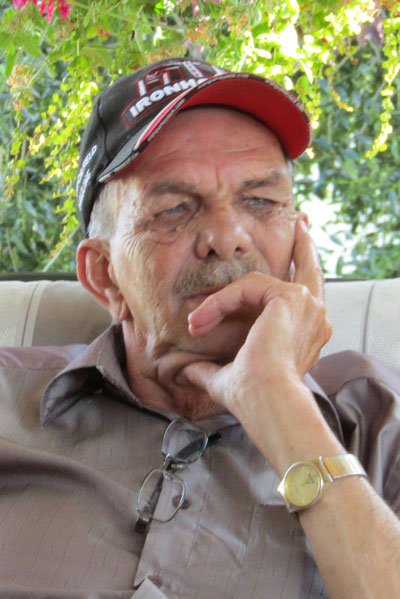 SCHARFL
Alfred (Alf)
September 21, 1946 – September 25, 2023
With broken hearts, we announce the passing of Alf Scharfl at Drayton Valley Hospital and Care Centre on Monday, September 25, 2023, at the age of 77 years.
FAMILY was everything to Alf, from horsey rides with the kids, jumping on beds, playing on the floor but most importantly supporting his wife and children in all that they did. Alf was a good husband, and he was a great provider with a very strong work ethic. Papa loved when the kids came around, it was his chance to give his wisdom on life, to teach life lessons and mentor them.
A family pastime at the Scharfl house was playing crib and everyone who wanted played. Alf was a heavy-duty mechanic by trade; however, he could fix anything and loved when there was a to-do list when he came to visit. He was a logical thinker and thought things through before acting. Alf enjoyed helping others - all you had to do was ask or if he saw a need, he filled it. He loved old western movies starring John Wayne and watching war movies over and over again. Alf was solid, a man with
no-nonsense advice. "Think, use your head", "You go where the work is". Alf's wife, children, grandchildren, and great-grandchildren knew they were loved by Alf (Pa).
Alf is lovingly remembered by his wife of 56 years, Marge; his children, Tina and Dan; grandchildren, Shane (Krystal), Andy, and Madeline; great-grandchildren, Cassidy, Devon, Kiera, Cameron, and Isabelle; siblings, Ralph, Rudy (Marie), Whip, Vivian (Cliff), Louise (Tom), Lynda, Carol, Louis, Keith, and Denise; and numerous nieces, nephews, great-nieces and great-nephews. Alf will be dearly missed by family and friends.
Alf was predeceased by his beloved daughter, Terri; siblings, Laraine and Kenny; sister-in-law, Maggie Northcott; parents, Alfred and Elda Scharfl, in-laws, Dan and Helen Cairns; nephew, Russell Scharfl and great-nephew, Ben Harty.
The family wish to acknowledge the excellent care provided to Alf at the Drayton Valley Hospital Acute Care.
A celebration of Alf's life was held at the Royal Canadian Legion Branch #269, Drayton Valley, 5204 51 Avenue, Drayton Valley on Sunday, October 8, 2023, at 2:00 p.m.
For those who so desire, memorial donations in honour of Alf may be made directly to Cause for Critters in Drayton Valley or the charity of one's choice.
Condolences may be sent to www.affinityfuneralservice.ca
Arrangements in care of
Joelle Valliere and Terri Shimenosky at:
Affinity Funeral Service
5001 – 45 Avenue,
Drayton Valley, Alberta T7A 1L1
780.542.3338