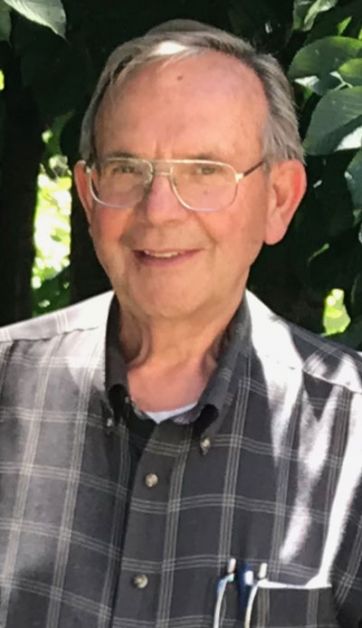 GOUDY
John Wesley
October 10, 1936 - November 6, 2023
John Wesley Goudy passed away peacefully at his daughter's home near Markerville on November 6, 2023. He went to be with his Lord and Savior at the age of 87 years.
He is predeceased by his parents, Laura Goudy (Croswell) and Myles Goudy and his brother James Goudy.
He is survived by Lorna Elizabeth Goudy (Hamilton), his loving wife of 61 years.
Lovingly remembered by his 4 children, 15 grandchildren, and 7 great-grandchildren.
His oldest son, Wesley Goudy and wife Victoria along with their 3 children: Myles Goudy and wife Kori and 2 children, Elizabeth and Rebekah; Kristin and husband Francis Quinn; and Carlin Goudy;
His oldest daughter, Shaunah Coad and husband Bruce and 5 children: Kailynn Coad; Karl Coad and wife Sophia and 2 kids, Brielle, and Renley; Rachel Coad; Rebekah Coad; and Debra Coad.
His second daughter, Dawn Russell (Mitch, deceased) and 4 kids: Alexander Russell and wife Erika and 3 kids, Clara, James, and Benjamin; Matthew Russell and wife Vanessa; Mitchell Russell and Ashley; and Meaghan Russell.
His second son, John A. Goudy and wife Antonia and 3 sons, Josiah Goudy, Jacob Goudy, and John Alec Goudy.
The service will be held at the Nazarene Church in Drumheller tentatively on February 3 at 1:00 p.m.
John was born in Calgary, AB on October 10, 1936.
From a young age, John Goudy was no stranger to hard work. (a legacy he carried for the next 71 years). At 16 years old, he worked up in the harsh conditions of the northern Alberta logging camps and then ended up working for the Hudson Bay Company in Edmonton in the credit accounts department. Perhaps this lent to his impressive skill of calculating math incredibly quickly in his head, a talent that no doubt served him well throughout his life in business. He married his sweetheart Lorna E. Hamilton on June 23, 1962 in Edmonton, Alberta
where they lived for 8 more years and were blessed with 3 of their 4 children, Wes, Shaunah, and Dawn. Starting Inland Plastics in Olds in 1970, he then moved the fledgling company to Rosedale in 1971 where John and Lorna had their 4th child, John, and where he established the present day head office of Inland Plastics which within 5 years he had led into such profitability that distribution centers could be added in Saskatoon, Toronto, Vancouver, and Chicago over the next 20 years. In recent years, he had up to 60 or more employees and continued to work up until his body would no longer allow it 6 weeks ago.
Although John was exceptionally gifted and hard working at his business, his deepest devotion was first to his Lord and Savior, Jesus, his family and his church. He will be missed by many in the Drumheller Nazarene church where he faithfully attended and served as a board member and Bible study leader for several decades, including those who grew to know and appreciate him through his attendance at, and support of the Nazarene camp Harmattan near Sundre. The extent of John's vast generosity to multiple charities were little known to even his own children until his passing. This included support of charitable organizations, some of which were known
to be first on the scene with portable hospitals, shelters, food, water and supplies in response to the casualties of natural disasters and war torn zones worldwide. He has left a legacy of faith, generosity, strong work ethic, grace and forgiveness. He will be sorely missed.