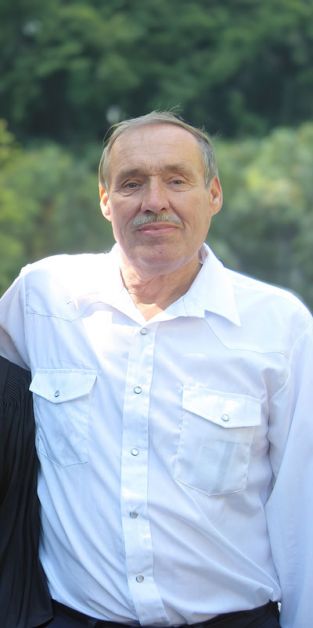 BELLAMY
Keith Arthur
Keith Arthur Bellamy was born in Thorne, England to Margaret Wainwright, and Arthur Bellamy and passed away in Strathmore, Alberta, on July 6, 2023, at the age of 78. When he was 21 years old, Keith worked very hard to earn the money to emigrate from England to Calgary, Canada arriving with just a suitcase. Even after many years in Canada he still retained a little of his British accent. In 1971 Keith met Elaine Will, and they enjoyed dates rollerskating at Lloyd's in Calgary.
After getting married, they farmed together in Hussar, Rosebud, Rockyford, and Beiseker as part of Will Farms. Keith drove every model of New Holland combine and was an expert operator - yellow was definitely his colour! One highlight of his life was a trip to Belgium to tour the factory where the combines were manufactured. If you got Keith started talking about machinery, you had a hard time getting him to stop. He was passionate about tools, keeping equipment well taken care of, and the shop organized. Keith took pride in doing every job well. Augers were always cleaned out properly, equipment was greased and washed, and tools were put away. He organized mini tool kits for the combine operators, and looked after a multitude of details to keep everything running smoothly, from judging when the soil was ready for seeding to determining when the crops were ready for harvest. His years of experience gave him a vast knowledge of every aspect of running a successful farm. Overseeing all the farm operations was his job, and he loved it.
Keith was passionate about trains, there was always at least one model train set in the works, sometimes multiple sets. His latest model trains included a garden railway and an HO train set. Besides model trains, Keith would jump at any chance to ride a train - his favorite trips included riding the Union Pacific Big Boy No. 4014 steam train in California when it toured the United States in 2019, the Canadian Pacific Via Rail and the North Moors heritage railway from Pickering to Whitby in England.
Backpacking with his family in the Canadian Rockies was something Keith enjoyed - especially Lake O' Hara. Later in life, Keith finally convinced Elaine and they purchased his dream 5th wheel.
What else did Keith enjoy? Double dipped cones from the DQ, radish sandwiches, banana sandwiches with NO peanut butter, strawberry jam, mashed potatoes and gravy, English pickled onions, Licorice All-Sorts, butter tarts, building models especially heavy trucks, western shirts with snaps, and good steel toed work boots along with a pair of clean coveralls.
Keith was actively involved in the children's ministry programs in his church, constructing many of the props Elaine used in teaching the children. Keith cut many Bible figures out of felt so his children could hear Bible stories each day in worship time, and later he cut out the same sets for his grandchildren. It always brought him joy to hear Elaine playing hymns on the piano and he especially loved the hymn "Blessed Assurance, Jesus is Mine".
Keith was very sentimental. Every anniversary, birthday, Christmas, and Valentine's Day he always brought Elaine a card and wrote a big "E" on the envelope, and sometimes there were flowers too. When he could no longer go to the store himself, he asked daughter Heidi to buy the cards for him. He constantly did many little jobs around the home and yard, and took care of the vehicles. He was the best sweetheart a girl could ever have!
The hymn written by Austris A. Whithol aptly describes Keith's life. "My God and I go in the fields together
We walk and talk as good friends should and do
We clasp our hands, our voices ring with laughter
My God and I walk through the meadow's hue…"
Keith is at rest now, but he will be dearly missed by his family, and friends.
Keith is survived by Elaine, his wife of 52 years, daughter April (Travis), daughter Heidi (Justin), son Paul (Kari) and grandchildren Anna, Noelle, Grant, and Benjamin.
A private memorial service will be held in August.
Wheatland Funeral Home in care of arrangements 403-934-4404