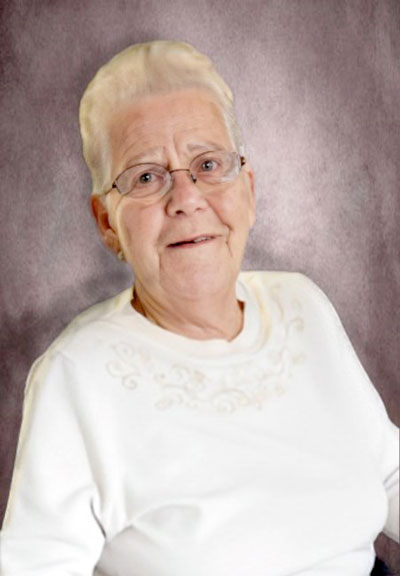 STUBER
Loretta Leola
November 28, 1935 - May 4, 2023
On May 4, 2023 Loretta Stuber, age 87, passed away peacefully, surrounded by family, after a brief battle with pancreatic cancer.
Born in Sugden, Alberta to John and Margaret Ginther she spent her younger years on the family farm in the Pine Lake, AB region. After marrying James Stuber in 1953 they made their home in Drumheller for 68 years and raised 3 children.
Loretta was kind, generous and the nicest person one could meet. She was a hard worker with many vocations starting at age 11 becoming a nanny and would go on to become a seamstress, waitress, salesperson and great homemaker.
She was also a very talented artist painting on canvas (plates, saws, toolboxes) or whatever she could get her hands on. Hobbies were always on the go but many crocheted doilies were made and many games of crib were played. Camping and fishing were also favorites either at lakes in Alberta or as a snowbird in Arizona.
As a Legion member, Loretta was a valued member of her community, volunteering and took on the role of flag bearer for many years. Not only giving back to her community, her best trait was being a wonderful mother, grandmother, sister and friend.
Loretta (or Etta as some would say) was predeceased by her husband Jim of 61 years in 2014 and numerous siblings. She is survived by her children: Stan (Janet) Stuber, Deb (Jim) Oranchuk and Ken (Louise) Stuber; her grandchildren: Steven (Danielle) Stuber, Kurtis (Elizabeth) Oranchuk, Scott (Melanie) Oranchuk, Tiana (Josalynne) Stuber, Sarah Stuber and Kyndra (Nick) Stuber; her sister Verna Parsons and many nieces, nephews, and dear friends.
Fond memories and expressions of sympathy may be shared at www.hainstockedmonton.com for the Stuber family.
A brief interment service will be held at the Drumheller Cemetery on Saturday, May 13th at 1:30 p.m. In lieu of flowers, donations can be made to the Canadian Cancer Society.