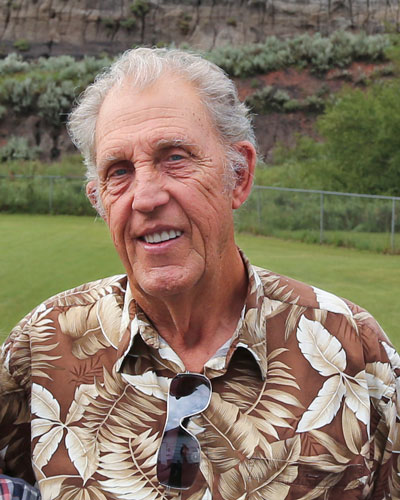 SNIDEMAN
David Hall
March 16, 1941 - March 9, 2023
David Snideman, beloved husband of Bunny (Lillian) Snideman (nee Hayhurst), passed away peacefully at the Cowichan District Hospital on March 9th, 2023. David will be lovingly remembered by his children: Diana Watson (Bouke), Alisa Dayman (Fred), Kristina Thompson (Mark), Rosemarie Fleury (Frank); his sisters: Wendy Doell (Les) and Cheryl Reynolds; his grandchildren: Chris Venner (Heather), Jennifer Mandziak (Jordan), Danielle Snideman (Ryan); great-grandchildren, nephews, his travelling companion Rene; as well as many other cherished friends and loved ones.
David was predeceased by his wife Bunny (2010), his mother Maisie Snideman (2002), his father Elbert Snideman (1978), and his brother-in-law John Reynolds (2021).
David was born in Seaford, East Sussex, England. He travelled with his mother to Innisfail, AB after WW II. In Canada he was adopted by his mother's new husband Elbert Snideman.
David met his wife Bunny in Oyen, AB, when they both worked at Buster's Grocery Store. They were married April 16th,1960 in Oyen by Bunny's father, Rev. John Hayhurst the local Anglican minister. In 1962 David co-founded the Oyen Echo newspaper, which is still published today. In 1969 he moved his family to Drumheller, AB to manage Bill Cross Men's Shop. In the ensuing years David and his wife owned and operated a number of businesses including, Bill Cross Men's Shop, The New Look Nook, The White Elephant, and Bunny's Flea Market. David and Bunny retired to Duncan, BC in 2007 where they lived in Silver Park. In December 2022 David moved to Abbeyfield House, where he made wonderful new friendships with the residents and staff.
David was an avid community supporter and volunteer throughout his life. Most recently volunteering for the Lion's Club at their Sassy Lion Thrift Store in Duncan, BC. Over the years in Drumheller, AB he was a member of the Kinsmen Club, Rotary Club, and the Masons. David spent years on the Drumheller City Council. He was a member on the Recycling Assoc. board, the hospital board, as well as many others. He participated in the activities of slow pitch baseball and swimming, and loved to camp and fish. David also attended and served in the St. Magloire's Anglican Church in Drumheller, as well as St. John's Anglican Church in Duncan.
David will be greatly missed. For his friends and family in BC, a Memorial Service will be held at 2:00pm on Saturday, March 18, 2023 at St. John the Baptist Anglican Church, 486 Jubilee Street, Duncan, BC. For friends and family in AB, David's Memorial Service and Interment in Drumheller will be announced at a later date.
In lieu of flowers, donations can be made to the Heart and Stroke Foundation or to the Canadian Cancer Society.
To express condolences, share memories and photos, please visit: www.sandsduncan.ca
Sands of Duncan 250-746-5212