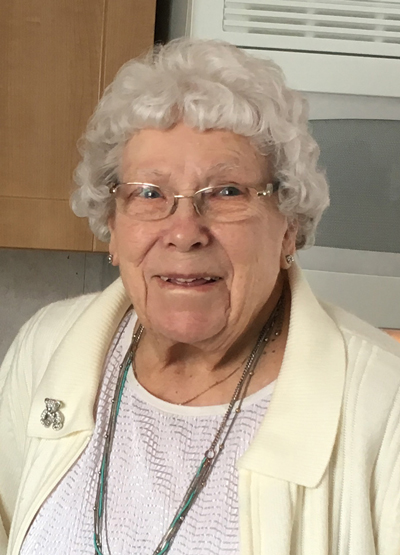 BRAMLEY
(King)
Phyllis May
May 15, 1925 - January 18, 2023
Phyllis May Bramley (King) passed away peacefully on January 18, 2023 in Drumheller, AB with her son Keith (Sheila) by her side. Phyllis was born on May 15, 1925 to Mr. and Mrs. James King on a farm located 10 miles north of Carbon. The third of five daughters, Phyllis attended Webb School until Grade 10. After school she kept busy with housekeeping, hairdressing and a number of other odd jobs for many families in Carbon. Phyllis was also employed for eleven years by the Bank of Montreal as a janitor and worked part time at the Carbon Post Office.
In 1947 Phyllis married Sydney Bramley and they made their home in Carbon. In 1959 she welcomed her son Keith into the world. Anyone who knew Phyllis knew that Keith was her world. Phyllis was active in the community and served on the Community Hall board spending countless hours on projects. One of Phyllis's favourite past time was curling. She was an active member of the Carbon Curling Club for many years and could often be found providing delicious food and desserts for community events or the lions Club. Phyllis had a love for flowers, gardening and her pets, especially her bulldog Jerry and her cat Boots who spent many nights guarding the power pole so the neighbours' cat wouldn't escape. Her retirement was spent in Three Hills, Strathmore and finally Drumheller. During this time, she enjoyed making new friends and while she never considered herself old, nothing put a smile on her face more than beating someone in a game of Crib, particularly one of these "old crocks."
Phyllis is survived by her son Keith, his partner Sheila, their family, as well as many nieces and nephews. She is pre-deceased by her husband Sydney and sisters Ruth, Edith, Lucy, and Frances, as well as Sydney's brothers and sisters. Phyllis's family would like to express their heartfelt thanks to the amazing staff at the Sunshine and Hillview lodges for the exceptional care they provided for Phyllis. We would also like to thank Dr. Tlhape and the ER and medical staff at the Drumheller Hospital for making her as comfortable as possible. A celebration of life will be held at a later date.
Memorial Donations may be made to the Drumheller & District Seniors Foundation, 696-6 Ave. E, Drumheller, AB T0J 0Y5 (in memory of Phyllis Bramley).
Courtney-Winters Funeral Home in care of arrangements. 403-823-2666.