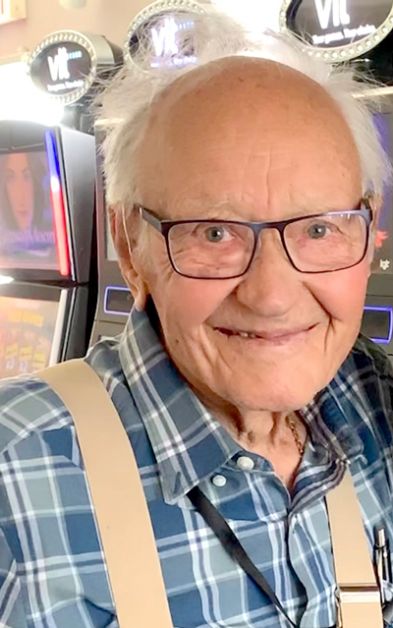 JENSEN
Svend
April 19, 1923 - November 5, 2022
Svend Jensen passed away November 5, 2022 in his home in Bearspaw, surrounded by those he loved, from Kidney failure. He was 99 years old.
Svend was a farmer and proud Albertan. He was born in Dickson, Alberta on April 19, 1923. Svend had a very successful grain and cattle farm in Hussar, Alberta. He and his first wife Leda raised their three kids there.
Svend travelled the world but nothing compared to the prairies, especially around Hussar. That was his most favourite, beautiful place.
After retiring from the farm, Svend moved to Calgary and spent the rest of his years between Salmon Arm and Bearspaw with his wife Dolly. They spent winters in the sun and had many adventures with their 5th wheel and motor home until slowing down and toughing out the winters at home.
Svend was still driving his lawn tractor last year at the age of 99 and still snowblowed the driveway last winter at the age of 98. What a truly amazing man.
He will be missed dearly by his wife Dolly, his Children Delores, Phyllis, Earl, Tricia and their families. And his 'special little man', Jaxson.
Following Svend's wishes cremation has taken place and there will be no service to follow.
Please share a story and have a drink of akvavit in Svend's memory.