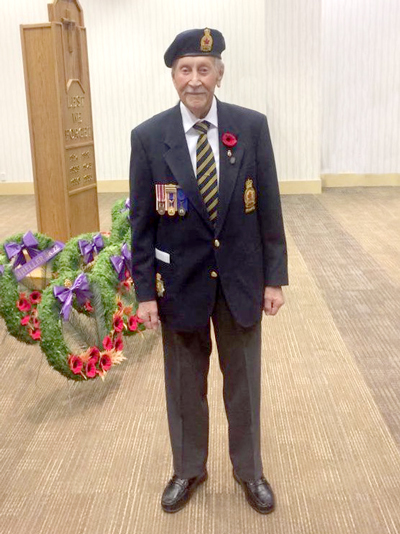 WIEBE
John
February 29, 1924 - May 21, 2021
With profound sadness in our hearts, we announce the passing of John Wiebe on May 21, 2021 at the Drumheller Hospital with his family by his side at the age of 97.
John was born in Neuhorst, Saskatchewan, February 29, 1924 to Peter N. and Aganetta Wiebe, the oldest of nine children.
John had reached 57 years membership in the Royal Canadian Legion having served in the Army Service Corps in the Second World War.
He had an extraordinary life because he strived on being the best at everything he believed in. He ran a taxi company in Drumheller from 1950 - 1963, working as parts manager at the Ford dealership, he got to travel around the world while being #1 salesman for Lifetime Cookware, and then working at the penitentiary before retiring. He realized retirement wasn't for him so he got his real estate license in 1997 where he became Drumheller's oldest real estate agent. He did finally retire at the age of 91 and a half. If there is one thing John taught us, it's that you are never too old to learn something new.
Dad treasured time with family. He enjoyed spending time at the Legion, trap shooting, curling, golfing, darts, and loved a great game of pool!
John was an amazing man, loving father, grandfather, and great-grandfather. He was a strong and independent man, while being a kind and caring friend. His impact on those lucky enough to know him will continue to be felt. We could not be luckier to have had such a great man in our lives.
John will be deeply missed and forever remembered by his daughter Christine (Wayne), his granddaughters Melanie (Steve) Hansen, Sandy (Shawn) Dudley, and his great-grandchildren Tanner and Olivia Hansen, and Jaxen, Carter and Kenadie Dudley, his brothers Ben (Eva), Martin (Joyce), sisters Mary Neufeldt and Hilda Reimer, sister-in-law Eva Wiebe.
A private service was held with family.