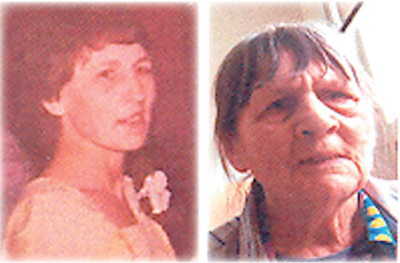 HROMADA (nee Bushby)
Frances Faye
May 12, 2021
Frances Faye Hromada (nee Bushby) passed away from the complications of dementia in Drumheller Long Term Care Unit on May 12, 2021 at the age of 82 years.
As a result of COVID-19 restrictions and government recommendations, there will be no formal public memorial.
She is lovingly remembered and loved by her two sons
Kelly and Darren (Sylvia). Grandchildren: Shaun (Wendy),
Jason, Danielle (Jed), Candice (Jacob), and Kari. Great grandchildren: Paxton, Phoenix, Autumn and Harlie. She is also survived by her sister Diane Borgstrom of Calgary.
She was predeceased by her mother, Margaret Bushby, and stepfather James Bushby, her sister Lynn Gardener as well as her 3rd son Derek Shawn.
Frances was raised in the Carbon, Alberta area. She loved the early farm life and really loved her animals which continued throughout her life. Her cats were constant
companions and gave her so much joy. Her kitty Daisy is being cared for by her son, Kelly and continues to give her sons a laugh or two now. There are so many memories and stories of her taking care of her cats all through her life. Oh the stories...Mom made our hearts laugh. She was one of a kind!
"Franny" as she was known at the various jobs she worked, was unmatched in work ethic. Working at places like Saan Store, Macleods, and the Elks Club covered many years. While working her last place of employment at Freson IGA for over 20 years, if you shopped there, Franny likely sliced the buns and bread you took home. She was missed the day she had to leave her job due to her illness.
She loved sports but was especially drawn to baseball and the Toronto Blue Jays. She always was watching and knew the teams and players so well; she would have fun times defending her beloved Blue Jays with anyone who had the same love.
Another part of Frances' early life was her desire to study the bible. She was drawn to the promise at Revelation 21:3,4. An earth of peace, free from sickness and death. She also believed in the resurrection promise at Acts 24:15. She was determined to learn more about the bible and taught her sons it was worth the effort too. She was a wonderful mother who really loved her boys. We cannot thank her enough.
Thank you to all who have expressed sympathy to the family at this most difficult time. Thank you to all the staff and Doctors who helped her through her illness the last
3 ½ years. To Dr. Moshood, and all the staff at the Drumheller Long Term Care unit, your efforts to help her maintain dignity, we cannot thank you enough!! Fran will be missed by the many who cared for her needs. The many miles of walking and looking for hugs from the staff endeared her to the staff.
Flowers are gratefully declined. Donations in Frances' name may be made to your local animal shelter.
Courtney-Winters Funeral Home in care of arrangements. 403-823-2666.