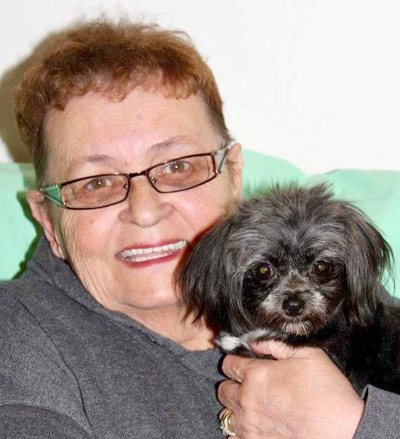 CAMPBELL
Norma Carol
January 13, 1944
Winnipeg, MB
December 17, 2020
Drumheller, AB
It is with broken hearts that we announce the passing of Norma Carol Campbell (nee Weston). Norma was the beloved wife and soul mate of 55 years to George Linton Campbell, who predeceased her on February 17, 2016. Their monumental love for each other will last for eternity. Norma passed away suddenly at the age of 76 on December 17, 2020, after very strongly and bravely struggling through complications with pneumonia.
Norma was born in Winnipeg and later moved to Calgary, where she met her treasured husband in a meeting of chance on a day trip on the road- one of her most loved stories. Norma's favourite thing in the world was to be with her immediate and extended family, as much as possible. She talked with much pride about her children and grandchildren, and never missed an opportunity to share family news. She also kept busy with numerous friends and loved visiting and chatting with everyone, in person, and on the phone. Norma had a true passion for camping, spending time outside in the sun, and enjoying the beautiful Rocky Mountains. With her family, she took countless month-long camping trips through Alberta and British Columbia, with her absolute favourite places to stay being Penticton and the Kananaskis. Norma's true love for all animals was a constant her whole life. She was always excited to see any animal in nature and spent long road trips pointing out every creature that she could see to her family. She devoted true care and attention to all of her beloved pets over the years, and never missed an opportunity to interact with any dog or cat she saw. Later in life when Norma wasn't able to have pets due to building restrictions, she dedicated many hours to volunteering at the Drumheller SPCA, where she found true joy in spending time with and helping animals in need. Norma endearingly ended every single phone conversation over the years with "bye-bye for now", and that is how we wish to think of her passing- not as a goodbye, but a 'bye-bye for now'.
Norma will be forever remembered and loved by her children - her eldest son, Stacey (Marcia) of Hanna, and her daughter Jaime (Ryan) of Youngstown. She is also survived by her two cherished grandchildren, Aiden and Emily. She will be sorrowfully missed by her sister Marlene, of Dartmouth, Nova Scotia, as well as by her much-loved niece and nephew, Nancy (Don), and Philip, of Calgary. She will be dearly missed by countless other family members and friends. Besides her adoring husband, Lynn, Norma was predeceased by her parents, John and Josephine, and brother-in-law, Gordon. In keeping with Norma's wishes, no formal funeral services will be held. As Norma's love for animals was so strong, for those who wish, the family requests that memorial donations be made directly to the Drumheller & District Humane Society.