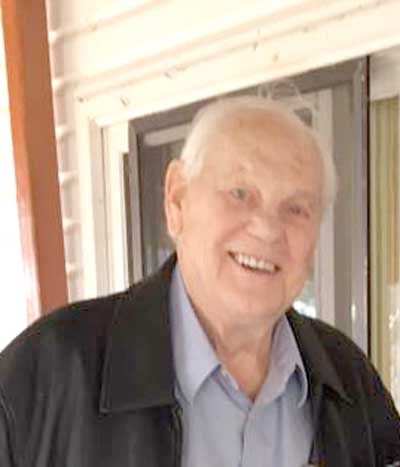 JOHNSON
Daryl Hillman
August 15, 1926 - August 31, 2017
It is with deep sadness our
family shares the passing of Daryl
Johnson on August 31, 2017 at the age of 91 years from natural causes. Daryl will be lovingly remembered by his wife Stella (Stephanie)
Johnson; his daughters Marsha (Murray), Zella Lorrie and son
Curtis; sisters Lola Sharland, Meryl Hough and Irene Palmer; 7 grandchildren and 10 great grand-
children as well as numerous
nieces and nephews. Daryl was predeceased by his parents
Benjamin and Zella Johnson and ten siblings. A memorial service will be held at The Church of Jesus Christ of Latter Day Saints, 1455 4 Ave NW, Drumheller, AB on Saturday, September 16, 2017 at 2:00 p.m. Daryl's family would like to express their deep appreciation
for the Drumheller Hospital
Palliative Care team, The Church of Jesus Christ of Latter Day Saints, and George and Jean Hagham for all their love, compassion and
support. Charitable donations can be made to: Drumheller Area Health Foundation General Needs in the name of Daryl Johnson, and mailed to: 351 9th Street NW Drumheller, AB T0J 0Y1.