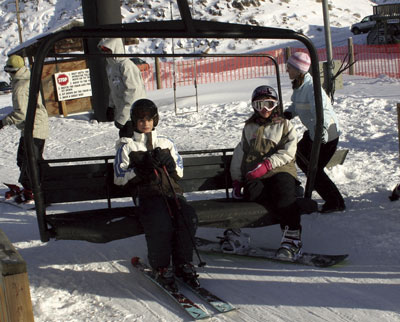 A new deal reached between the Town of Drumheller and the Drumheller Ski Club Board will allow the hill to operate a recreational facility this season and for the next 10 years.
    This followed a heated, yet productive discussion  at the Town of Drumheller's regular council meeting on Monday night.
    "It was a very positive meeting in which the ski hill was able to present our case for continued operations," said Zrinko Amerl, who has made his intentions known that he is interested in purchasing the ski hill. "Council has given unanimous support for the ski hill and their commitment to work towards finding common ground."
    "I am pleased to report that we came to an agreement this morning (Tuesday), and you will be seeing snow on our hills again this winter and for years to come."
    According to councillor Karen Bertamini, under the new arrangement the town has gone back to the existing Drumheller Valley Ski Club, and offered that body the same agreement to purchase they had in place since 1997, which was cancelled by the town in June of this year.
    Under the new terms, the land currently owned by the Town of Drumheller, which includes most of the ski slope, is bound by a caveat stipulating  the ski hill has to remain a public use facility for a minimum of 10 years.
    She says this arrangement allows the Drumheller Valley Ski Club to transfer ownership, however all debt must be paid in full and the condition the land remains for public use is retained.
    "Unless you can caveat the property, and they are willing to accept the caveat on the property, then we have lost control. Even if intentions are good, it was still up to council to protect that asset so it remained for public use," said Bertamini.
    This agreement follows a presentation made my Amerl and Zeke Wolf, president of the Drumheller Valley Ski Club at Monday night's council meeting. According Amerl, the future of the ski hill was in question. Wolf made a impassioned plea for  a deal to be reached.
    "Council…you provide the environment that controls the quality of life for the citizens you work for. Taxes are our cost for that quality," said Wolf. "Businesses rely on having those dollars spent wisely to provide the attractions for our customers, clients and guests. Summers in Drumheller are fabulous, winters are not. A viable ski hill is a benefit to Drumheller.  Zrinko has a vision and a plan to attract 50,000 skier visits a year. I believe he can accomplish this. Having said that, we are not guaranteed success. We are guaranteed failure if we don't try."    
    Bertamini said  at this meeting, it was the first time they saw a glimmer of hope to reach a compromise.
    "Up until last night he (Amerl) was not willing to  take that property with any restrictions, and council wasn't going to give that property away without a guarantee it would remain public," said Bertamini.
    Another condition on the property is if the hill changes hands to a private operator, the town would no longer supply town water at a reduced rate to the ski hill.
    "If it stays a public facility, the municipality will go back and support that facility in any way we can," said Bertamini. "We will not support a private individual."
    Bertamini says in the end the agreement protects an asset of the Town of Drumheller  and also facilitates another season of skiing.
    "Council did what was necessary to protect the community's assets. That was the intention all along, not to stall or inhibit a ski hill from functioning," she said.