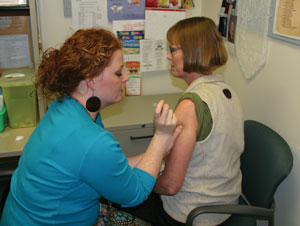 Update: On Wednesday, November 4, Alberta Health Services announced flu clinics for The Central Alberta Region. There will be an H1N1 vaccination clinic at the Stampede Barn on Saturday, November 7 from 9 a.m. to 4 p.m. The clinic will only be for children between the ages of six months and five years, as of November 1, and pregnant women.
There are also clinics for children between six months and five years of age, and pregnant women in Hanna on Thursday, November 5 at the Hanna Community Centre from 9 a.m. to 4 p.m., and in Three Hills at the Priairie Bible Institute on Friday, November 6 from 1 p.m. to 8 p.m.
As of Wednesday, November 4, according to the Alberta Health Services web site there are no flu clinics scheduled in Drumheller. On October 31 Alberta Health Services accounced it would be suspending Alberta flu clinics, both for the seasonal flu shots and the H1N1 vaccines. On Tuesday, November 3 it was announced clinics would resume this week targeting spcicially children between six months, and under five years of age, and then pregnant women. So far ther are no clinics scheduled in Drumheller.
The following is the most recent press release from Alberta Health Services.
Targeted immunization of children, pregnant women to begin later this week
November 3, 2009
Due to the unexpected national shortage of the H1N1 vaccine, Alberta Health Services and Alberta Health and Wellness today announced plans to begin targeted immunization of Albertans at high risk.
Starting on Thursday, Alberta Health Services (AHS) will begin targeting children aged six months (on day of vaccination) to under five years as of November 1st.  Proof of age (Health Care card, birth certificate or other valid identification) must be provided.
On Friday, November 6, AHS will expand the program to include pregnant women.
At this time, the vaccine will not be available to other Albertans. When more vaccine becomes available from the manufacturer, the targeted immunization program will be further expanded to include people under 65 with chronic health conditions. Details will be announced as more information becomes available on the vaccine supply.
All Albertans who want to be immunized will have that opportunity when increased supply of the vaccine arrives from the manufacturer.
To ensure vaccine can be provided to high risk groups, no exceptions can be allowed. This is a provincewide roll-out. Everyone is asked to go the AHS website for detailed information on clinic times and locations. One new clinic will be added in both Calgary (Stampede Grandstand) and Edmonton (Commonwealth Stadium); each of which will open on Thursday, November 5. This will bring to six the total number of clinics in each city.
  
"I want to re-emphasize that the plan we are rolling out is targeting those in high risk groups that are vulnerable to serious medical complications related to H1N1," said Dr. Andre Corriveau, Alberta's Chief Medical Office of Health. "When clinics resume on Thursday, I urge parents who have children aged six months to under five years as of November 1st to be immunized. On Friday, pregnant women will be added to the program. I ask all Albertans to be patient as we deal with the vaccine supply shortage and remind all Albertans there will be enough vaccine for everyone who needs or wants it."
For the most current information on the targeted vaccination campaign, including dates, clinic locations and groups being vaccinated, go to: www.albertahealthservices.ca