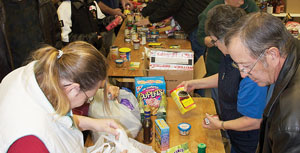 The Drumheller Salvation Army will be holding their annual food drive on Thursday, November 26 at 6 p.m.
The food drive is part of its Christmas campaign. The one night blitz will cover the Drumheller valley as well as Nacmine, Rosedale, Morrin, Munson and Carbon.
Volunteers can meet up at one of 14 starting points set up throughout the valley. The drop off point for food and sorting will be at the former Liquidation World warehouse, accessible from the rear of the building
The Salvation Army has seen the need for the food bank grow this year, having helped 470 people so far.
 "The more households we can get involved the more we will be able to help all those less fortunate," said Salvation Army food drive coordinator, Heather Colberg.
The food drive is a one night event where community members are asked to donate non-perishable food items, and volunteers from each area come to collect the items. Canvassing will begin at 6 p.m.
The food drive coordinators would like households to have their non-perishable articles pre bagged or boxed and labeled for the volunteers.
"This program needs support from all community members so please dig deep in your hearts," said Colberg.
The Christmas food drive is not the only fundraising event the Salvation Army holds over the holiday season. November 20 kicks off the traditional Kettle Campaign at the Dragon's game. To volunteer to man a kettle call 403-823-2215.
The Salvation Army operates entirely on donations and the main source of income comes from the Christmas Kettles. The kettles this year will need some 700 volunteer hours over five weeks at four different locations.
"This is a huge undertaking for us and we need the support of the community to make it successful," said Salvation Army Lieutenant Rachel Sheils.
Last Christmas was filled with a little more cheer for the 138 children who received toys and 107 families who received a Christmas hamper with everything needed for a holiday meal.