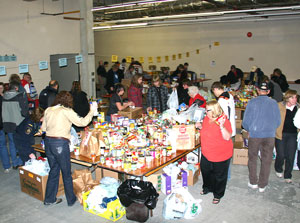 Incredible generosity was the story of last Thursday night as more than 100 volunteers came out for the annual Salvation Army Food Drive.
    Their job was simple; to collect and help sort the donations collected through generosity of thousands in the valley that altruistically gave to help fill the shelves of The Salvation Army Food Bank, and make Christmas brighter for those in the valley in need.
    "It was overwhelming to see how many people helped," said Lieutenant Matt Sheils of the Salvation Army. "It was very exciting, lots of people said it was more food than they have ever seen."
    Sheils says the success of the food drive allows the Salvation Army to distribute more complete hampers.
    The blitz started at 6 p.m., and in less than an hour the depot at the former Liquidation World was overwhelmed by the volume of the donations. So much so, they opened up a third sorting table just to contain the donations.
    Hard at work were members of the Drumheller Dragons, Drumheller Scouts, DCHS basketball teams, the Sea Cadets, the Rosedale Community Association and the Knights of Columbus to name a few, as well as dozens of residents that just wanted to help out.
    Organizer Heather Colberg said they had in the area of 70 signed up to sort, but dozens more joined in.    
    While it appeared chaotic, Sheils says by the next day the vast supply of food was sorted and ready to be stocked.
    He is grateful to the Drumheller Co-op for allowing the use of the space, and the Drumheller Rotary Club and its ample supply of tables to make sure the sorting went smoothly. He is also grateful for the efforts of Colberg and the support of Hi-Way 9 Express.
    Colberg says she is grateful for the community's support.
    "A special thank you to all those who donated food, those who came out and helped collect food for the less fortunate and a really big thanks to my friends who continually support this great project-without all of you this would not be possible," she said.
    The Salvation Army continues to have a busy season. While they held a rally to get those in need registered to receive a hamper, those who did not get on the list can still phone the church to register. There are still a number of opportunities to volunteer to man kettles.
    For more information on how to get involved, call 403-823-2215.