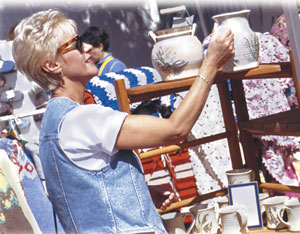 After a few years hiatus the Rotary Clubs White Elephant sale is back this July.
    This was a mainstay of the Rotary Club for many years, and this summer it returns Saturday and Sunday, July 24 and 25.
    The concept is simple. Residents are invited to donate Items they no longer use, and the Rotary Club will come and pick it up. On the weekend of the event, everyone is invited to come and wheel and deal the best buy they can. The proceeds from the sale go toward the many local projects the Drumheller Rotary does in the community.
    This year's event will be held at the former Liquidation World space in Greentree Mall donated by the Drumheller Co-op
    Historically the White Elephant Sale was held at the Drumheller Memorial Arena, and the Town of Drumheller and the Rotary Club worked hard to make that happen again, however, they just couldn't make the timing work.
    "The vacant space at Greentree Mall will be excellent for our purposes, and we're grateful to the Drumheller Co-op for this donation," said event chair Jay Garbutt.
    Garbutt said now is the time to book an appointment for members of the Rotary Club and volunteers to pick up a donation to the White Elephant Sale. They will be available in the evenings on Monday to Thursday next week preceding the sale to pickup items. Residents can make an appointment by calling 403-823-4407 or 403-823-0680.
    "We'll also be open at the mall to accept drop-offs that week for anyone able to bring in their items," adds Garbutt.
    This is the perfect time for residents to rummage through their basement or garage for useful items they no longer need.
    Garbutt explains while they are appreciative of all donations, however there are some stipulations. He says the Rotary cannot accept mattresses, cribs, children's car seats and computers for safety, sanitary and security reasons.
    That leaves myriad of other items ranging from housewares and large appliances to clothing, tools and sporting goods.