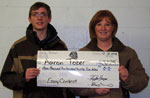 Winning essay nets trip to Europe, thanks to local donors
A Delia student's writing has guaranteed him free passage to Europe with his school, after winning an essay contest.
Delia School students are on their way to Europe. They plan to see six countries in 14 days come this April. Leading up to the trip, Kay Dee Harper, Delia School athletic director organized an essay contest with the prize being a free trip to Europe. The funds for the trip were raised by community members. Thirteen judges read the essays and Grade 12 student Aaron Tober was chosen as the winner.