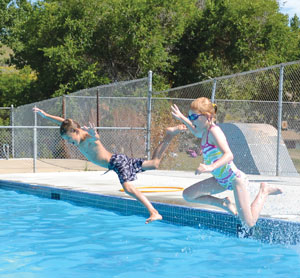 With water splashing in all directions, you'll hear children yell to their parents with huge smiles on their faces: "Did you see me? I did it!"
    The Drumheller Aquaplex has had no problem with the wet weather this summer. Classes at the Aquaplex have seen a great increase in enrolment for children this year.
    The instructors have taught 55 preschool children and helped to build their skills and confidence in the water.
    The Swim Kids program had an average of 80 kids attending, keeping instructors busy in and out of the pool.
    These summer classes operate with a combined staff of 25 high school and university students helping with the lessons.
    Maureen Russell, a grandma from Drumheller, says her three grandsons come from Vancouver for the summer and choose only to take swimming lessons at the Aquaplex.
    "The kids just love the instructors here and it's a wonderful facility," replied Russell.
    Patrons new and old have been able to enjoy swimming lessons and achieve new levels in their swimming skills.
    Ann Wade credits her staff, saying, "I have an amazing staff and I'm so thankful to have them."
    While the usage for both indoor and outdoor pools has seen equal use throughout the summer, the indoor pool will be closed on September 6 for draining and painting, but the outdoor pool will remain open for everyone to enjoy.