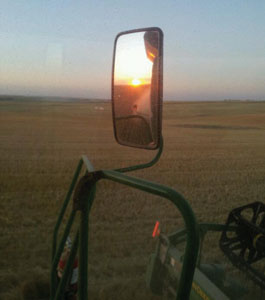 Combines have been humming this fall, and so are farmers at the prospect of a very successful season.
So far, it looks like a positive season for producers as conditions converge for a great harvest.
"Things are rolling along great," said Bruce Sommerville, Ag fieldman for Kneehill County. "Yields are up, quality is good, I don't know what else to say."
Sommerville said Friday, he figures the area harvest was close to 50 per cent complete. He said quality is looking high, but so far, he has not heard how protein content is measuring up, as high protein can fetch a higher price with the exception of malt barley.
"It is the best malt barley outlook we have had for a few years," he said.
While the area received a sprinkle of rain on Monday, for the most part the weather has cooperated with producers. Sommerville said a few low spots have been hit with frost, but nothing that would have great effect.
"On a 10 year average, this would rank on top," said Sommerville.
Al Hampton, Ag field man for Starland is also cautiously optimistic.
"I think it is going to be a decent year," he said. "At the end of the day, the frost has stayed away and most of the crops have matured. There is still a ways to go but the fall is cooperating very well so far."
He gauges overall, in the area, producers are between one third to one half complete harvest.
"I don't think it is as far ahead as most think because we need the first couple weeks of September to try and mature things," he said, adding crops closer to Drumheller, and areas with lighter soil like Craigmyle might be a little further ahead.
He adds that feed and hay crops have also been good.
Along with quality and yield looking positive, he said prices appear to be fairly strong.
"You probably can't get much better in a farmer's world, other than getting it done," chuckles Hampton.