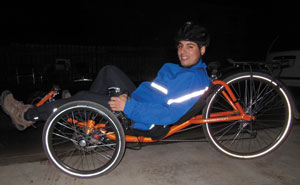 Another Drumheller resident has committed to conquering cancer by participating in The Ride to Conquer Cancer benefiting the Alberta Cancer Foundation.
    Our March 31 edition of The Mail told you about Cassandra Knight joining the ride, now Victor Bustamante, who works at The Royal Tyrrell Museum, will join thousands of other men and women in a history-making ride June 26 and 27, 2010.
    Bustamante will take part in a two-day 200 kilometre ride through the Rocky Mountains with a night of camping.
    Friends in Calgary encouraged him to join them on the Ride to Conquer Cancer after he started a new training regime to get himself fitter when he turned 30 last September.
    "At first, I thought there was no way I could pull that off. But then as I was getting fitter, I felt I was able to take the challenge on, so decided to join the ride," Bustamante told inSide Drumheller.
    He has now started a full training regime, determined to get himself fit for the ride. When the weather permits, he bikes around Drumheller using two different types of bikes, a standard one and a recumbent one, where you cycle laying down, or swims at the Aquapex.
  "I think it is going to be quite challenging.  My longest distance so far in one day was 80 kilometres. I could have gone further but then the biggest challenge is doing it again the next day. I think the first day won't be much of a challenge, but the second day, being injury free and ready to go will be the hardest part."
    Like Knight, Bustamante keeps a blog of his training.
    "If people are coming to donate, I feel it is a courtesy to keep them updated with what I am doing and the effort I am putting into it."
    With one in three Canadians diagnosed with cancer in their lifetime, Bustamante is rallying the cause to support breakthrough research and the discovery of new cancer therapies at Alberta Cancer Foundation.
    Like the many who are undertaking the ride,  the disease has affected people close to him and he is hoping to raise $2,500 to help with research.
    Right now, back home in Peru, his dear aunt Norma is battling colon and liver cancers, and although she is having a very hard time with the treatment, she is still fighting.
    One of his co-workers was also affected and had to give up work due to difficulties dealing with cancer and its treatment.
    In Knight's article, she extended an open invitation to be joined during her training.          Following this, she was contacted by another Drumheller resident, Stephanie Black, who is doing the Ride to Conquer Cancer. inSide Drumheller has now also put her in touch with Bustamante.