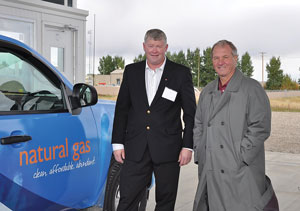 Last Wednesday, Encana opened a compressed natural gas (CNG) station in the Clearwater Business Unit.
The station, located in Strathmore, demonstrates Encana's ongoing commitment to building the necessary infrastructure to support a transportation future driven by natural gas.
"Encana is leading by example as we convert our own vehicle fleet to natural gas and help build the necessary infrastructure to support its expanded use as an alternative fuel to gasoline or diesel. Operating a fleet of vehicles on natural gas is both an economic and environmental advantage for our business, and we are inviting other business operators and consumers to join us in capturing the benefits of this clean, abundant and more affordable fuel," said Randy Eresman, Encana's president and CEO.
"We believe that natural gas as a transportation fuel has huge potential to improve the bottom line of its users. Our vast North American supply of natural gas truly represents a domestic energy solution and a way to further strengthen the economies of both Canada and the United States. In fact, the natural gas industry currently employs nearly 3.4 million people and every one per cent increase in natural gas production creates up to 35,000 new jobs."
The Strathmore CNG station will fuel Encana's growing fleet of natural gas-powered vehicles, which now has 39 trucks converted to run on natural gas in the company's Clearwater Business Unit encompassing the Strathmore area. Overall, Encana has 128 of its approximately 1,400-vehicle North American fleet running on natural gas to date, as well as 15 drilling rigs, and continues to further expand its conversion program. Beginning in 2012, Encana Natural Gas expects to offer the Strathmore station's fueling services to other corporate fleets in the area and to the public at a later date.
Luigi Vesacarelli, community Relations advisor for the company in Drumheller says the company is still evaluating the possibility of a filling station in the industrial area of Drumheller.
Natural gas-powered cars and trucks are fueled with CNG or liquefied natural gas (LNG) and operate similarly to gasoline-powered vehicles. There are currently more than 960 natural gas vehicle fueling stations in the United States fueling about 110,000 natural gas vehicles. Canada has a network of approximately 80 public fueling stations in five provinces.