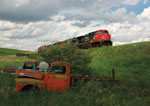 Seven mile line offered for sale
CN Rail has announced it is taking steps to close a seven-mile stretch of track called the Dinosaur Spur.
The track in question runs from just north of the Village of Morrin, to where it connects to the Drumheller Subdivision near Munson. This piece of track has been on the company's discontinuance list since February of 2007.