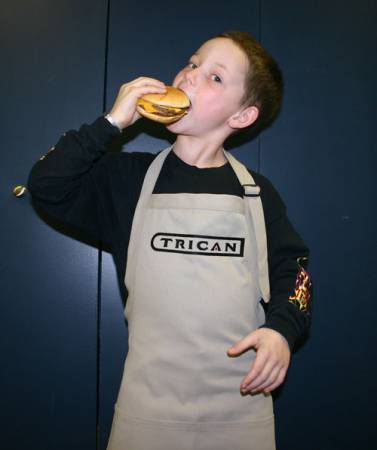 Seven year old James Zuccatto, of Nacmine, has been canvassing hard in the streets of Drumheller for the last two weeks.
    He is raising money and, in the process, getting some training, for the walk he and his team are doing on Sunday, June 6: The Red Deer Telus Walk to Cure Diabetes.
    At the age of 3, James was diagnosed with Type 1 (formerly called juvenile) diabetes. In his short life, he has had over 8,000 needle injections, and 10,000 blood tests.
    James has learned to cope well, injecting himself in the legs in the summer, his mom Heather explained to inSide Drumheller. She does the shots the rest of the time, adding, "He is on a sliding scale so he can eat whatever he wants within moderation.  If he eats cakes or treats, he takes insulin too."
    "We have had a lot of struggles with the medical field as far as people not knowing about diabetes. It has come a long way," said Heather. "It was time for us to do our part."
    Well aware this keeps him alive,  James also knows injections are not a cure and will not protect him from the longer term complications associated with the illness, such as blindness, amputation, kidney failure and more. 
    So James and his team, "James' Gang", are joining the thousands who will walk 5 km to find a cure.
    To help with the team's fundraising, he and his family are organizing a BBQ on Wednesday, April 21 from 11:30 a.m. at Trican Base in Drumheller.
    Food on offer will be hamburgers and macaroni salad and there will also be a silent auction. Many items were donated by businesses in the area.
    James' Gang also has a facebook page, called "James' Gang..Walk for Diabetes..Find a Cure", which his mom maintains. Donations can also be made through the Telus Walk to Cure Diabetes site at www.jdrf.ca/walk, search for the team "James Gang" or participant "James Zuccatto".