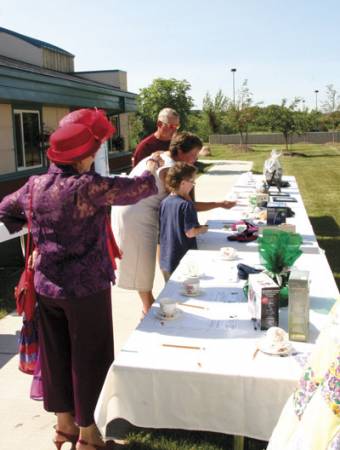 Sunday was the perfect day for a garden party, and to raise funds for the Drumheller Area Health Foundation.
    The foundation hosted its first of what is hoped to be an annual garden party complete with tea, snacks and a silent and live auction. The fun time took place at the new Recreation Therapy Garden at the Drumheller Health Centre on August 30.
    A strong crowd of residents of the continuing care unit as well as supporters came out on a sunny Sunday to have tea, bid on the items, and have fun. A healthy contingent of the local Red Hatters came out and even the queen. A backdrop of live music kept bidders entertained.
    Linda Ames, administrator with Drumheller Area Health Foundation was impressed by the support from local residents and businesses for the number of silent auction items.
    The main event for the garden party was a live auction of art, made and donated by local artists and collectors. Skip MacArthur took the gavel in hand and auctioned off the items.
    In total, the afternoon event raised about $6,000 for the Drumheller Area Health foundation.             The funds are earmarked for a portable ultra sound machine for the Emergency Room and Operating Room.
    Ames says they are already looking at ways to grow the event for next year.