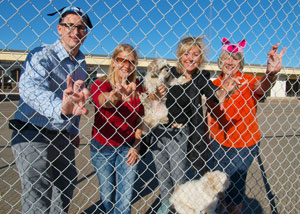 Residents of the Drumheller Valley are being locked up.
The Drumheller and District Humane Society is having their Caged for Kennels fundraiser, one of the biggest events for homeless animals in the valley.
The premise is that participants are comfortably caged in a large dog run and only released when donations reach their goal.
This year there is a twist. Female and male participants will be caged separately in a race to see who can reach the goal of $4000 first. The victors will be released, leaving the others to wait to see freedom.
There will also be a BBQ and other entertainment.
Festivities take place on Thursday September 29 between 11 a.m. and 2 p.m. at the new home of the Humane Society, 1121D Railway Ave South near the veterinarian clinic.
Donations can be made at the event, and those over $20 will receive a tax receipt.
The funds will go to operating the new adoption centre, caring and finding homes for the homeless animals in the community.