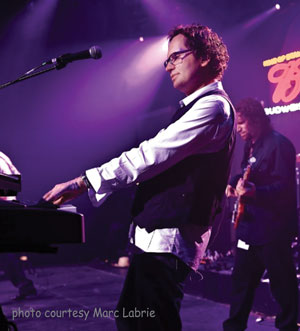 Hey Romeo has broken through the #20 ceiling on the Mediabase Canadian Country charts.
    The band, featuring Drumheller native Rob Shapiro, has been steadily making music since 2002 under their previous moniker Utter Madness, and now Hey Romeo. In 2007, they released their self-titled album. Their cover of Fleetwood Mac's Second Hand News received strong airplay. Along the way, the band won the  2008 CMAA  Top New Group award, and in 2009 Shapiro won the CCMA Keyboard Player of the Year.
    They are back on the radio as their recently released single Searching for You is now #19 in the Mediabase Canadian Country charts.
    "So, among North American country acts being played on the radio in Canada, we're #19 as of Saturday," an elated Shapiro told inSide Drumheller. "This is rare air for us as it's our first Top 20. I was in the Canadian Tire parking lot in Drumheller when I was talking to our radio promotion team over the holidays and we all picked numbers that we hoped our new single Searchin for You would go to, I picked #17 and the team picked #23.  I have since changed my mind to Top 10!"
 The ranking can only be a boost for the band as it gains notoriety across the country.
    "That will be a big difference maker to us for the rest of the year as far as live shows at concerts, festivals, tours, exhibitions, rodeos and other events. It also will open the door for us to be an opening act for the big ticket Nashville acts that play at the dome that need "support" acts, or openers," said Shapiro. "It would be huge for Hey Romeo to be on a bill with Tim McGraw, Keith Urban, Toby Keith, Rascal Flatts or Kenny Chesney.  It helps establish the band's demographic and adds to our fan base by being on those type of hugely attended shows. Going Top 20 is a big deal, even if we don't go Top 10, it's mission accomplished for the first single of our new album."
    Mediabase produces music charts based not on sales, but radio play. It monitors almost 2,000 radio stations throughout Canada and the US.
 The future looks bright for the band. They have a number of Canadian tour dates coming up and even a possible stop in Drumheller. They will be appearing at Nashville North during the Calgary Stampede and may even head to France.
    They have also signed with Royalty Records based out of Edmonton. This will give the band better distribution as they move forward.
    "That's going to be key to getting the music to people. Walmart, HMV and other retailers will have the disc before summer," said Shapiro.
 To keep up with the band, fans can go to www.heyromeo.com to learn more. There is a link to request their latest single to local radio stations. Fans can also follow the band on Facebook.