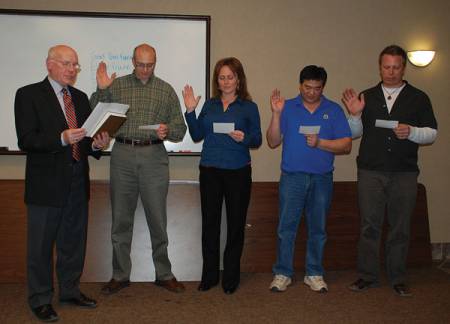 The Drumheller and District Chamber of Commerce has a full board of directors going forward into this year.
    The chamber held its annual general meeting on Tuesday, March 23 at the Ramada. The chamber had five seats to fill on the board of directors, and six candidates, spurring an election.
     Elaine Piwin of RBC in Drumheller and Gordon Van Kannel of Drumheller Co-op let their names stand. Piwin was elected to a three-year term, as were newcomers Ed Mah of McDonald's, John Shoff of Reality Bytes and Connie Tremblay of Re/Max Drumheller. Van Kannel was elected to a one-year term in the seat vacated by Vicki Myers, who resigned from the board. Mayor Bryce Nimmo swore the new board members in.
    It was an exciting year for the Chamber of Commerce. After MaxCampus completed a presentation on their services and first year of operation, they launched into business.
    It was another stellar year for The World's Largest Dinosaur. Between December 2008 and November 2009, 118,172 visitors climbed the World's Largest Dinosaur. Chamber manager Heather Bitz reported this was the second busiest year for the World's Largest Dinosaur since it opened in 2000. On the September long weekend the attraction welcomed its one-millionth visitor.
    The dinosaur also gave back last year, contributing to a number of community groups through the Legacy Fund, and most recently made a commitment of $250,000 over the next five years to the Badlands Community Facility.
    Jeff Hall, fundraising chair for the Badlands Community Facility expressed his appreciation to the members of the chamber for their support of the program.
    Another highlight for the chamber was in August of last year when the Visitor Information Centre at the World's Largest Dinosaur was accredited, which will enhance the centre's visibility and allow the staff to promote the valley.
    The Annual Chamber Golf Tournament was another success. Last year 130 participants came out, and with the funds raised from the event, the chamber was able to put $3,500 towards the Canada Day Parade and send local student, Alana Augert, to the Alberta Youth Entrepreneur Camp. They awarded bursaries to Nicole Stahl and Stanley Ituah and the chamber donated $4,660.15 each to Big Country Victim Services and DARTS.
    Downtown Drumheller had another successful year. Mike Todor presented the committee's report that highlighted a number of exciting events they were involved in, including the Olympic Torch Celebrations and Paint the Town Red.
    Many of these activities benefitted local community groups including the Morgan Jayne Project, The Elks Club and the Drumheller and District Humane Society.
    The group is ambitiously pursuing projects to enhance downtown Drumheller, including working on cosmetic improvements with Communities in Bloom, lobbying to bring the Alberta Main Street Project to Drumheller and working on long term plans for an outdoor market/ park recreation area in the downtown core.
    Following the reports, the chamber's Financial Statements were presented.