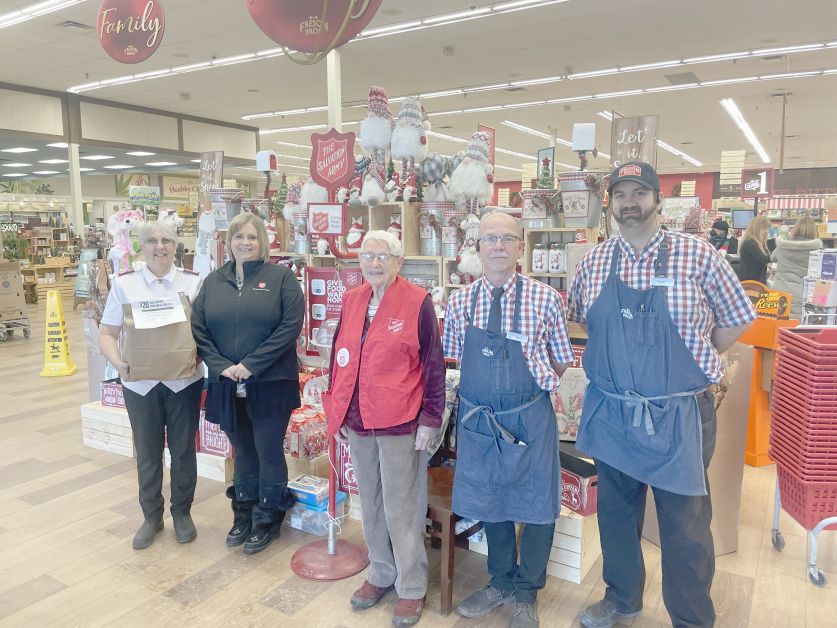 On Friday, November 18, The Salvation Amy kicked off its Kettle Campaign at Freson Bros.
This is The Salvation Army's annual campaign to raise the funds it needs to operate throughout the year. Salvation Army Major Robert Burrell tells the Mail they have set the goal for the annual campaign at $75,000. This is up from last year's goal of $55,000.
"The increase over last year comes primarily for two reasons. Firstly, inflationary factors have already impacted our ministry due to the increased costs we have incurred through purchasing food," he explains. "Secondly, the overall donations received during the last few months have decreased."
He adds The Salvation Army anticipates much greater demand for services, due to the inflationary factors having a negative impact on its existing clients.
"We also expect to serve a number of new clients this year due to the same reason," he said.
The kettles are out in full force, at Freson Bros., Walmart and Extra Foods in Drumheller. Volunteers are stationed at the kettles to wish Christmas cheer to shoppers.
The Freson Bros., Salvation Army Thrift Store, and Extra Foods Kettles have the Tip Tap feature, where donors can electronically give.
There is a scanner for $5, $10 and $20 increments, and those wishing to give can simply tap their debit or credit card.
Community and Family Services and Anti-Violence Coordinator Amanda Courtenay says the donation goes directly into the local Salvation Army's bank.
Those wishing to volunteer to man a kettle can call 403-823-2215.
The Christmas season is underway for The Salvation Army.
This Thursday, November 24, the annual Red Bag Food Drive is coming up. Volunteers will be scouring the community picking up donations for the food bank.
The Annual Teddy Bear Toss is also coming up at the Saturday, December 3 Drumheller Dragons game. Its annual Tennis Ball Toss is on Saturday, December 17.
Those wishing to give can put their donation in a tennis ball, and let it rain down at the Drumheller Dragons game.
Those wishing to register for food hampers can do so by appointment from November 21 to December 2.