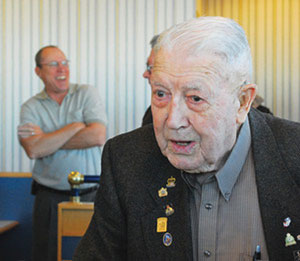 The make-up of Drumheller was very different 70 years ago, and The Mail was able to catch a fleeting glimpse of that through the mind's eye of someone who was there.
    Ernie Henderson of High River turned 105 on January 11 of this year. He holds the distinction of being the oldest man in Canada to wear the Red Serge, and it was not long into his career he was stationed in Drumheller.
    Henderson became an RCMP officer in 1933 and came to work in the valley the late 30's.
    "In fact, I was there when the war broke out," Henderson told The Mail, as if it were yesterday. "I was there for two years, and a half."
     According to Henderson, this was not long after police service in Drumheller was turned over to the RCMP. Before he came to Drumheller, he was stationed in British Columbia for four years.
    The 1930's were tough all over, and in Drumheller it was no different.  Henderson says already mines were closing in the 1930's before the war effort created a boom.
    "There were 700 hundred families on welfare at the time in the valley, right on both sides of Drumheller," he said. "At that time there were no paved roads there either, and that heavy mud was really bad."
    It was still a young man's town with all the pitfalls it entails, including services that have both become frowned upon, and legendary.   
    "It was tough in a way," says Henderson. "There were two houses of ill repute."
    The iconic duo of Madames Mary Roper and Fanny Ramsley set up their shops around 1918 and were doing a roaring business at the time Henderson was stationed in Drumheller, and he remembers them by name.
    They were both on the outside of the city limits," said Henderson. "We never could get anything on Mary, but we were tough on Fanny."
    They also had learned of the reputation of the young officer.
    "When I was transferred, from there the day before I left, there was a taxi that drove into the yard. Our office was in the old courthouse building at that time," he recalls. "It was Fanny Ramsley, and she said, 'Is Mr. Henderson here?' They gave me a call and when I came out, she said, 'I hear you are leaving.'"
    "I said 'you'd be happy about that,' and she said, 'No, I am really not. You were tough, but you were always fair.' You can't get a better recommendation for a policeman than that." 
    Henderson moved on in 1941 to the Hanna Detachment, and was married in Hanna. He eventually retired from the force in 1948 and went back to his first love -- ranching.
    "I left after 15 years, I was a corporal then and I was stationed in Cardston, but I was always a farmer at heart, particularly with livestock. I judged draught horses from Vancouver to Toronto in some of the biggest shows in the country," he said.
    He says he has not been through Drumheller for six or seven years as he does not have a driver's licence anymore. He says his eyes are still good, but his hearing is starting to fade. His stories still hold strong at his regular Thursday coffee klatch at the Dairy Queen in High River where he holds court with a number of retired police officers. In fact, this year it was the site of his 105th birthday celebration and it even attracted RCMP K-Division Commanding Officer Rod Knecht.