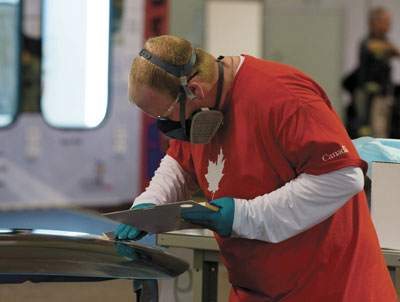 It was an experience of a lifetime for Daniel Green as he competed at WorldSkills 2009.
    Green, of Drumheller, was one of eight Alberta competitors at the international competition in Calgary. He competed in the automotive painting category, and he learned just how competitive a field it was. To the untrained eye, his completed work was impeccable. In the judges hands, he placed 14th out of 16 competitors. He explains that this was indicative of the competition as only a few points separated first from last.
    "They were all really good," he said of his competitors who came from around the globe to the competition in Calgary from September 1 to September 5.
     Being from Alberta in the year that the games were hosted in Calgary, he said he felt like there may have been more pressure on him going into the contest. It soon dissipated.
    "I was nervous the first day, but then I settled down," he said.
    The competition tested all his skills as a journeyman. Each participant was given the front clip of a car to complete the task. They had to mix their colours, prime, smooth the contours and do body repair. They then had to paint a design and apply decals.
    "It was testing  painting, prepping, masking, everything," he said, adding they were graded on their workmanship as well as following procedure.
    Auto body work is his passion, and he excelled up the ranks leading to WorldSkills. It also ends his run at trades competition.
    "You are only allowed to participate at the worlds once, so I let someone else do it," he said.
    He is thankful for the support of many in the community who supported his appearance at WorldSkills, especially his local employer Peterson Auto Body.
    "They taught me all of what I know today," he said.
photo courtesy WolrdSkills