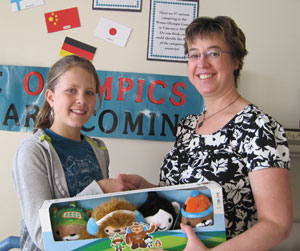 Grade 5 Hussar student, Kayla Sandum, 11, received a birthday treat that will be hard to beat. 
    While holidaying with her family in Mexico last week, she telephoned her grandmother, Jackie Sandum on January 21, as they both share the same birth date.
    Jackie had some exciting news for her: Kayla was a winner of the ATCO Celebrating Excellence Challenge that she had recently entered through her school, the Hussar School and would soon be off to Vancouver to see an Olympics sporting event, all expenses paid.
    The ATCO challenge was open to all of Alberta students in Grades 4 through 12.  Students were invited to submit a composition in their own words on how they pursue leadership and strive for excellence in sports, arts, culture, education or community involvement.
    Two students (one male and one female) from each of Alberta's 83 constituencies were randomly drawn and rewarded with a trip of a lifetime to Vancouver.
    Mrs. Moczulski, Grade 5 and 6 teacher at the Hussar School saw a commercial for  the ATCO challenge and explains, "I thought this would be a good chance because it was a random draw, so the kids would not be judged on the quality of their writing."
    On her return from the Christmas vacation, Mrs. Moczulski organized for the students to enter the competition.
     "Some of the kids said 'we never meet anybody who ever wins anything', I said 'well there's always a chance.' I won a trip when I was in Grade 9 so I said it was possible for anyone to win!," she said.
    The Grade 5 and 6 students in Language Arts class then wrote an essay about pursing excellence and submitted their application on-line to ATCO.
    Kayla was one of those lucky few winners.
    "You always enter kids in contests and always encourage them to do their best, it's nice when they actually get rewarded for their efforts," added Mrs. Moczulski.   
Kayla told The Mail she was very excited when she heard the news, and will be taking her mother, Corey, on the trip.
    She hasn't forgotten about her teacher.
    "She said 'if I win a trip again I'll take you'," laughs Mrs. Moczulski. "Actually her mom is our parent council president and she has also instituted a hotmail program in our school so she has put a lot of work in this year so it's neat that Corey gets to go too."
    Kayla hopes to be able to see the figure skating event, she is a skater herself, and although she doesn't have a sight on being a future Olympic skater, she really enjoys watching this event.