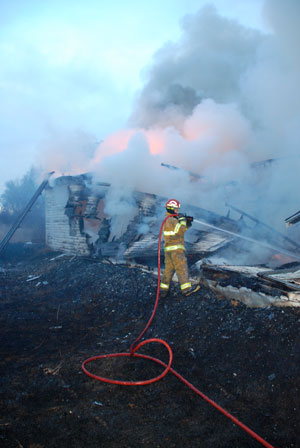 A building fire at the farm of Art and Candace Grenville last Wednesday evening, March 31, brought a quick response from four Starland County Fire Departments and the Drumheller Department.
Sometime after 6 p.m., a fire was spotted by a passerby of the farmhouse near the intersection of Highways 9 and 56, who alerted 911. The Grenvilles, who live across the road, were at the scene trying to prevent the fire from spreading until crews arrived.
The fire consumed a shed, which had a history with the area, as had been moved to the site in the 1970's. It was formerly the garage building that had been at the Morrin Corner Service location for many years.
No injuries were reported in the incident, and there was some smoke damage to a dwelling on the site.
Damage was limited to some older vehicles.