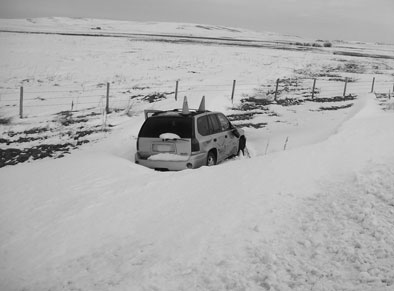 Just as people were getting ready to enjoy spring due to the long warm spell experienced in March and beginning of April, last week the area  saw a wind storm, which created chaos on the highways in the region, and now a winter storm swept the valley.
    On Tuesday evening, April 13, Environment Canada issued a winter storm warning for the region, predicting 5 to 10 centimetres of snow with winds gusting to 70 km/h. By Wednesday morning, the storm was in full force, with snow and wind generating blizzard conditions in some areas, making driving treacherous, causing power outages and downed telephone lines.
    Many schools in the region had to close for the day, and ATCO Electric engineers were again busy dealing with power outages across the area.  The Drumheller Emergency Services were also called out to deal with a transformer fire just north of Drumheller.
    Gerhard Schwarz, customer services supervisor at ATCO Electric, told inSide Drumheller the biggest problem for them during a winter storm is the heavy wet snow and the high wind.
    "The wet snow piles up on the wires, and then the winds come, causing the wires to flap together and the fuses to blow, which they are designed to do. Then we are continually chasing it around, repairing the fuse and then the next one will go, so the engineers go from one to another to another. It started last night, right now, [Wednesday afternoon], we are experiencing some issues in the Rowley rural area as well as some in the wintering hills. The blinking of lights experienced is due to a combination of the wires connecting and the other reason is we have turned some systems off to repair some of the broken wires. When they are turned back on, you will experience the blinks."
    Schwarz also said there was one mainline break in East Coulee on Wednesday which they were working on. The treacherous road conditions also affected the speed at which the power outages could be resolved.
    "We keep everybody safe, customers and staff. Our customers are pretty understanding, especially when they can see what is going on out there with the weather."
    Al Kendrick, director of Infrastructure for the Town of Drumheller told inSide
Drumheller "We were a lot luckier than others, we didn't  have any major upsets of any kind yesterday [Wednesday], I don't think we had it as bad as everybody else to the south or east of us."
    ATCO Electric told inSide Drumheller they were still working on power outages in the north west region of the valley on Thursday morning, due to accessibility issues.